German flag-carrier Lufthansa is to re-introduce Airbus A380s next year to counter aircraft delivery delays and address the sharp rise in passenger demand.
The airline says the 509-seat aircraft will be used on its network from summer 2023, but it has yet to determine either the routes or the number of A380s it requires.
Lufthansa has eight A380s remaining in its fleet. They are among 14 of the double-deck type placed in long-term storage in Spain and France, as the pandemic wrecked the air transport market.
The other six aircraft have been sold.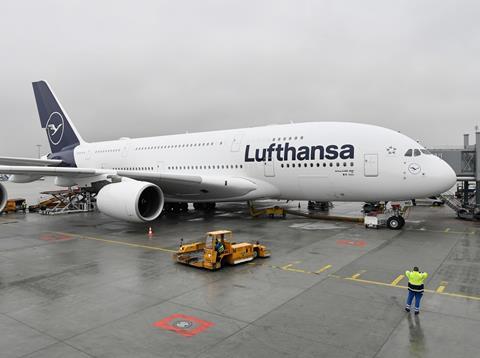 While the airline has not elaborated on the aircraft delivery delay situation, it has Boeing 777-9s on order but their arrival has been pushed back.
Lufthansa agreed earlier this year to acquire more Boeing 787s to help with the capacity situation.
"We decided today to put the A380, which continues to enjoy great popularity, back into service at Lufthansa in summer 2023," says the carrier.
Over the next three years it aims to introduce 50 long-haul aircraft including the 777-9s, 787s and Airbus A350s, as well as more than 60 single-aisle Airbus types.