Luxair has ordered up to nine Embraer E195-E2 twinjets, as it continues with a fleet modernisation effort.
Four of the aircraft are firm orders, while the Luxembourg carrier has also taken two options and three purchase rights, Embraer announced at the European Regions Airline Association General Assembly in Innsbruck on 11 October.
Luxair expects first delivery from the order in the final quarter of 2025.
Luxair's fleet overhaul has seen it introduce its first Boeing 737 Max 8s into its fleet this year, while it also took options on the Max 7 at Paris air show.
The airline's fleet also includes 737-700s, 737-800s and De Havilland Canada Dash 8-400 jets,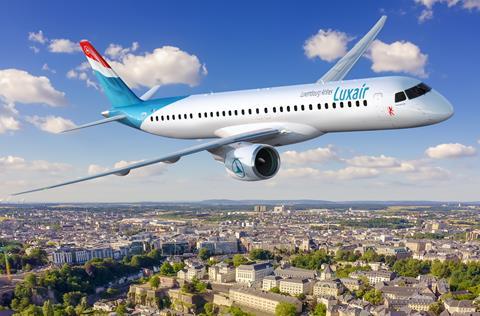 The carrier's chief executive Gilles Feith says the E2 will give Luxair options in "niche" markets that are out of range of the Dash 8s and "too thin" to fly with its Boeing narrowbodies, such as Helsinki "and other capital cities".
The Luxembourg carrier previously operated ERJs, meaning the order marks its return to operating Embraer types.
Feith indicates that Luxair is also looking at potentially taking aircraft that exceed the size of its current largest jet, the Max 8.