Pilots at Canadian ultra-low-cost carrier Lynx Air have sent a notice to the airline's management requesting to open negotiations on their first collective agreement.
The Air Line Pilots Association, International (ALPA), which represents the airline's 110 flight deck professionals, said on 28 June that its negotiating committee is "ready to present reasonable proposals consistent with contracts of similar ALPA-represented pilot groups".
"We are thrilled to utilise the expertise and resources that ALPA has to offer as we begin negotiations for our first collective agreement," says Lynx's acting master executive council chair Randall Hulkenberg. "Our pilots have been clear they want to support management's plans for the future, as our airline continues to grow."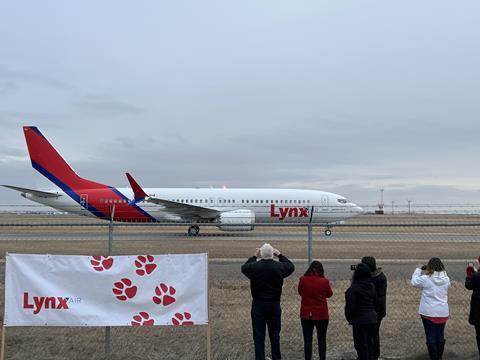 Lynx, which launched flight operations in April 2022, is privately-owned, and currently operates seven Boeing 737 Max 8s, with 10 more set to join from Singapore-based lessor BOC Aviation. The discount airline flies to destinations in Canada and the USA.
"Our goal is to reach a fair contract that recognises our pilots' important role in growing the company successfully," Hulkenberg says. "As management works to make our airline a choice for passengers, we need a contract that provides improvements to job security, work-life balance and compensation to make Lynx Air a choice for pilots, too."
In early May, an "overwhelming majority" of Lynx pilots filed membership cards requesting to join ALPA.
Later that month, ALPA negotiated a new contract with Canada's second-largest airline WestJet, just hours before that carrier's ALPA-represented cockpit crews were planning to strike. WestJet had already begun cancelling flights in anticipation of disruptive labour action, which was then called off when the agreement was announced.