Malaysia Airlines has completed its first passenger flight powered by a blend of sustainable aviation fuels, as it targets rolling out similar flights in the near-term.
The airline on 5 June operated flight MH603 from Kuala Lumpur to Singapore, on a Boeing 737-800 (9M-MXX) which was fuelled with a blend of jet fuel and SAF produced by Finnish company Neste.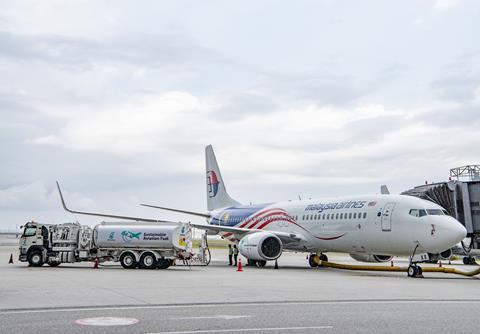 Malaysia-based energy group Petronas helped procure the fuel through its European trading arm. It was also involved in product handling and refuelling at Kuala Lumpur International Airport (KLIA).
The passenger flight comes about half a year since the airline operated its first SAF-fuelled cargo flight, from Amsterdam to Kuala Lumpur.
Following the flight on 5 June, KLIA will now begin supplying SAF for potential airline customers, including those in the Malaysia Aviation Group, like Firefly.
Malaysia Aviation Group sustainability chief Philip See says that the airline group is looking "to make SAF the cleaner and more viable energy option for our regular flights by 2025".
See adds: "[We aim] to be a pioneer in using SAF for flights in Malaysia as part of our commitment to achieving socio-economic development and reaching net zero carbon emissions by 2050. We have taken proactive measures in minimising our carbon footprint from the ground up through measures taken within our operations, including fuel efficiency programmes such as SAF."