As Malaysia Airlines parks nearly half of its fleet in long-term storage amid the coronavirus outbreak, its engineering unit has switched up its usual operations.
For instance, various representatives from divisions within the unit — such as technical services, quality assurance, and maintenance control — have come together to form a "command centre" to marshall maintenance and repair resources for the period.
Malaysia Airlines senior executive engineer for production, planning and control Chan Kin Ting says the engineering unit has had to "make a lot of ad hoc and prompt decisions" on the fly, because of uncertainty about the outbreak's impact.
Malaysia Airlines has parked about half of its fleet of nearly 90 passenger aircraft at Kuala Lumpur international airport for the long-term, including its entire fleet of six Airbus A380s, as well as 29 Boeing 737-800s.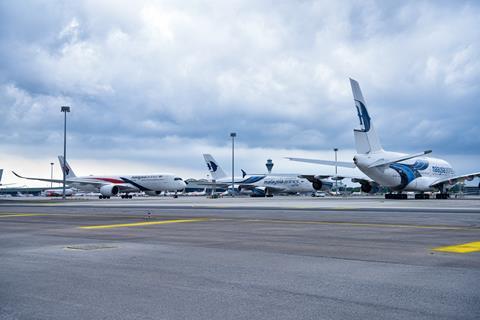 Given the unprecedented number of parked aircraft, the engineering division — which has more than 1,990 staff across Malaysian airports — has grouped its line and base maintenance teams and divvied up the work according to tail number.
Checks included as part of the long-term parking maintenance procedures include making sure the fuel tanks do not contain microbiological growth, and ensuring engine parts do not fall victim to Malaysia's humid weather.
A group of 300-400 engineering staff have also been regrouped as maintenance "frontliners". Their responsibilities deal primarily with line maintenance checks at its Kuala Lumpur hub, such as physical inspections of aircraft exteriors, and cabin equipment maintenance.
Precautions put in place because of the pandemic mean that this group of staff are only allowed access into the aircraft cockpit, to limit exposure to any suspected cases, says Chan.
The aircraft is then towed to a remote parking bay for checks and repair works to commence. Once the all-clear is given by the engineering command centre that no suspected infected persons was on the prior flight, the staff will enter the cabin to begin their defect checks.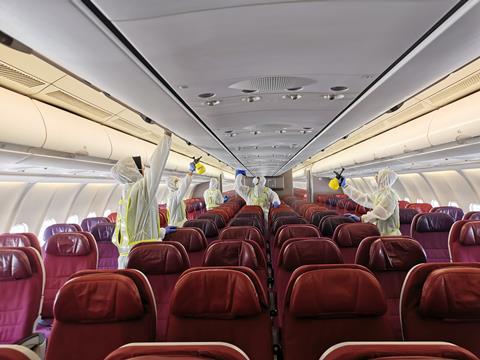 Chan says this process now takes longer than the usual practice, but declined to specify. Checks — and subsequent repair works — on an A330 can usually take about one to 1.5 hours, Chan notes, but that has since been extended as a result precautionary measures.
Malaysia Airlines joins other carriers in and around the region, which have also had to tweak their maintenance workflow to cater to an unusually large number of stored aircraft.
For instance, Middle Eastern giant Etihad Airways in April said it was working to bring forward maintenance checks of aircraft already grounded, and would be stepping up cabin and airframe maintenance during this period.
Separately, Malaysia Airlines is also looking to expand the number of passenger-to-freighter flights during this period. Since March, the carrier has already mounted more than 150 such flights, with cargo put in the belly of its passenger aircraft.
On 14 May, it also flew its first flight ferrying cargo in the passenger cabin with an A330-300 to Melbourne.
Captain Jacob Kurien, a senior manager for flight safety analysis at the carrier's corporate safety oversight office says destinations it is looking at include to points in China, Japan, as well as in Australia.