Malaysia Airlines' parent company has been given the green light by the UK courts to commence a "major component" of its restructuring programme, which it hopes to wrap up by the end of the first quarter of this year.
The go-ahead, approved on 20 January by the UK court, allows Malaysia Aviation Group (MAG) to convene a hearing with its creditors to consider a proposed restructuring scheme.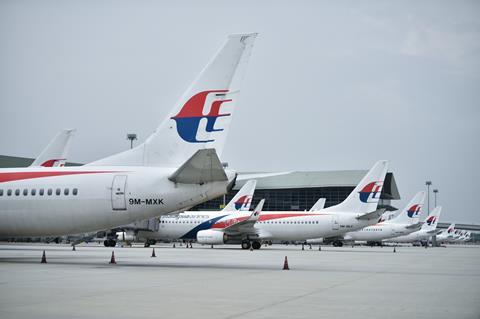 It comes after MAG aircraft leasing unit MAB Leasing issued a practice statement letter on 23 December to some of its creditors — who have yet to indicate their support for the restructuring efforts — to notify them of its intention to file a scheme of arrangement in the UK court.
A scheme of arrangement is an agreement between company and creditor to assist in fulfilling debt obligations.
MAG adds that the outcome of that meeting will be reported back to the court — at a sanction hearing — on 22 February.
The airline group, which has been hard-hit by the coronavirus outbreak and the consequent collapse in travel demand, also disclosed that it received "overwhelming support" from its creditors to carry out restructuring efforts, "after many rounds of intense negotiations."
"MAG will continue working with its relevant stakeholders with a view of completing the numerous transactions as soon as possible," it adds.
The group expects no disruption to existing operations, stating: "[The group] remains committed to its entire ecosystem including its customers, suppliers and other stakeholders and aims to ensure that the restructuring exercise is carried out in a fair and transparent manner."
The restructuring, first announced in October, will see Malaysia Airlines resized into a carrier "with a stronghold in Asia-Pacific", involving involve what it called a "drastic" relook at its network and fleet plans.