Malaysia Airlines expects to fully recover operations in China and North Asia by end-June, amid a ramp-up that will see its system-wide capacity fully recover to pre-pandemic levels.
The update comes as parent company Malaysia Aviation Group (MAG) swung to profitability on the back of "robust" travel demand and "effective" cost control measures after emerging from restructuring.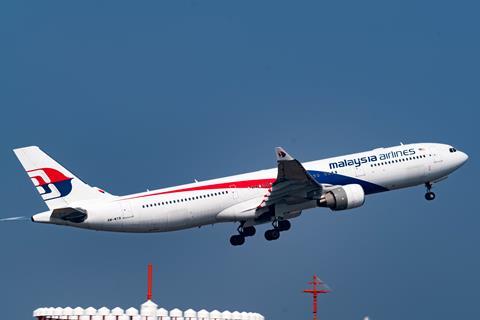 For the year to 31 December 2022, MAG posted an operating profit of MYR556 million ($125 million), reversing the MYR767 million loss in 2021.
The group reported one its highest quarterly net profits in the three months to 31 December 2022, posting a net profit of MYR1.15 billion.
While MAG did not provide a detailed breakdown of its units' financial performance, it says mainline operator Malaysia Airlines managed to turn profitable in the full year, reversing years of losses.
The "exceptional turnaround" also saw the carrier triple its operating revenues for the full year, "underpinned by strong demand on the international sector for both passenger travel and cargo freight".
The Oneworld carrier is operating at around 85% pre-pandemic capacity, and aims to return to full capacity following the reopening of China's borders.
MAG low-cost unit Firefly was still in the red for the full-year, amid weaker passenger yields and tepid demand for it turboprop operations. The airline resumed jet operations in April 2022, operating former Malaysia Airlines Boeing 737s from its Penang hub.
MAG managing director Izham Ismail is optimistic of the airline group's prospects, adding: "Travel demand outlook remains strong in the near term, although macroeconomics environment remains very challenging with sustained high fuel prices, volatile forex, higher operating costs due to inflation, labour constraints, recession and geopolitical risks."