Malaysia Airlines has taken delivery of its first Boeing 737 Max 8 – its first new aircraft type in over five years – after a reported two-month delay.
The aircraft (9M-MVA) arrived at Kuala Lumpur on 16 November on a delivery flight from Boeing's Seattle facility, kickstarting the Oneworld carrier's narrowbody fleet renewal plans.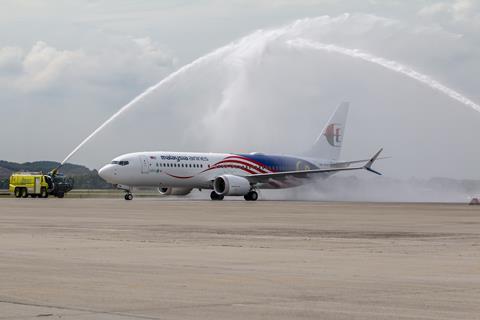 Malaysia Airlines says it will deploy the first example on domestic flights, with its launch route set to be from Kuala Lumpur to Kota Kinabalu in east Malaysia on 20 November.
The aircraft is the first of 25 737 Max 8s ordered on operating lease from lessor Air Lease Corporation. Malaysia Airlines expects the remaining 24 examples to be delivered through 2026.
The airline's first 737 delivery was reportedly delayed for at least two months owing to defective parts, according to local media reports, citing unnamed sources.
The jet was to have been handed over to Malaysia Airlines in late August, days after Boeing discovered fuselage issue on the 737 Max that could delay deliveries.
The airframer found fastener holes that "did not conform to our specifications" in the aft pressure bulkhead on certain 737 Max jets. It is unclear if the delay in Malaysia Airlines' aircraft delivery had to do with the latest issue.
The delays have forced Malaysia Airlines to revise its fleet plans for the year. Izham Ismail, the managing director of airline parent Malaysia Aviation Group, told an industry conference in early November that the carrier will now take four 737s, instead of seven.