Malaysia Airlines is to take delivery of its first Boeing 737 Max 8 in August – its first new type in more than five years – following the completion of the aircraft's first test flight.
The aircraft (registration 9M-MVA) is the first of 25 737 Max aircraft the airline has order, with deliveries set to run through 2026.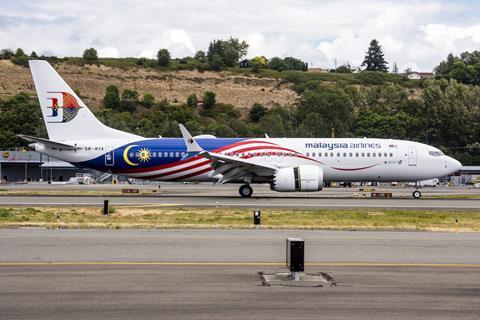 Malaysia Airlines did not disclose where the first aircraft will be deployed, and FlightGlobal understands details will be made known following its delivery.
The carrier had previously said that its new 737 Max 8s will replace its fleet of older 737-800s one-for-one. It also said it was in the market for 25 additional narrowbodies.
Along with its latest announcement, Malaysia Airlines also unveiled a modified livery for the new 737 Max 8s, which sees the 'wau' - a kite of Malaysian heritage and the airline's logo - repositioned on the tailfin.
The aircraft cabin products will also be similar to that of its refreshed 737-800s, where it eschews a seat-back entertainment system for a wireless in-flight entertainment system.
"[The new 737 Max 8s embody] modernity and Malaysia's rich heritage through its striking livery design and inviting cabin interior, all aimed at enhancing the overall customer experience," says the airline.