Malaysian regulators have suspended the air operator certificate (AOC) of start-up low-cost operator MYAirline, dealing a blow to the carrier's revival plans.
The Civil Aviation Authority of Malaysia (CAAM) on 16 October says that effective immediately, MYAirline's AOC will be revoked for a 90-day period, pending investigations.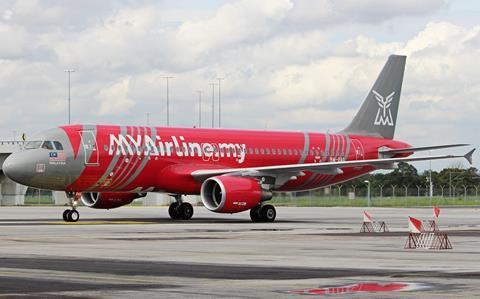 The airline, which began operating in December 2022, had on 9 October also received a two-year extension to its air operator's certificate. Three days later, it abruptly halted operations, citing "significant" financial pressures, and amid reports that a last-ditch attempt to secure strategic investors fell through.
The CAAM says MYAirline's sudden collapse "raises serious concern" about the "overall integrity of civil aviation operations in Malaysia".
The authority also defended its decision to renew MYAirline's AOC, noting that when it carried out safety audits in late-May, "there were no findings to indicate financial distress".
"Should a financial issue arise, a written notification to CAAM must be made immediately to ensure no compromise to the safety of operations. To date, MYAirline had not submitted such notification to CAAM," the authority adds.
Separately, MYAirline has claimed that it has received "multiple interests" for "strategic partnerships" to revive the carrier. The airline did not elaborate further except to say it is "diligently reviewing" these proposals.
The airline also refuted claims it had axed its employees following its sudden closure: "All MYAirline personnel are still under full employment. We have not placed anyone on unpaid leave."
The statement follows reports that its staff were owed their salaries as the airline ran out of cash, prompting the Malaysian Aviation Commission to launch investigations.
Malaysian news outlet New Straits Times also reports that the airline's interim chief Stuart Cross has left the airline, days after taking helm following the resignation of founding CEO Rayner Teo.
MYAirline did not confirm the report, but its statement is now attributed to Sri Azharuddin, its interim accountable executive.
Cirium fleets data indicates that MYAirline operates 10 Airbus A320s powered by CFM International CFM56 engines, of which eight are in service and two are in storage. The entire fleet is leased and the average aircraft age is 14.4 years.