Moves are reportedly under way to replace struggling national carrier Air Malta with a new operation after the European Commission indicated it would not suport a fresh state aid package for the airline.
The Times of Malta on 16 April reported that, while further talks are planned, the Commission is likely to block a planned €300 million ($329 million) state injection into Air Malta and that the latter was likely to be shut down and immediately replaced by a successor carrier.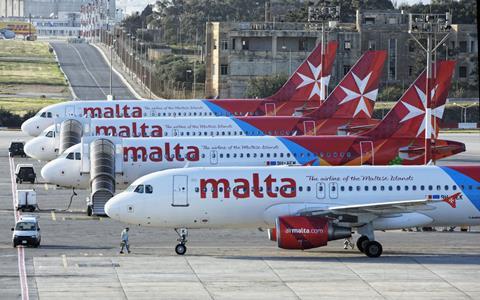 Air Malta chairman David Curmi was subsequently quoted by the same paper as saying the aim is for a "largely seamless" transition to the new carrier by end of the year.
"We are nearing the end of long, difficult and complex discussions with the European Commission, which did not want a photocopy of Air Malta. We showed the Commission that we mean business," he is quoted as telling the Times of Malta. "We created a five-year business plan and we are close to concluding on that. If we stick to this plan, then we will have a national airline that makes business sense."
Asked about the issue during a television interview on 18 April, Malta's finance minister Clyde Caruana said a definitive decision has not been taken and that fresh talks with the Commission are scheduled. "Once agreement has been reached on all points, I will communicate this decision as a government, both to the workers as well as to all those with an interest in this sector," he says.
A move to form a successor carrier would echo the approach taken in Italy. National carrier Alitalia ceased operations in October 2021 and was immediately replaced by new national operator, ITA Airways. The Commission has recently ruled that two rounds of Italian financial support for Alitalia were illegal under state aid rules.