Malta's government believes an eight-strong fleet together with a right-sized network and staff levels will enable its planned successor carrier to Air Malta to be profitable.
Maltese prime minister Robert Abela on 2 October detailed plans to establish a successor carrier to Air Malta, taking over from the national airline from the end of March next year. That followed talks with European Commission regulators, who had baulked at plans for further a capital increase in the struggling carrier.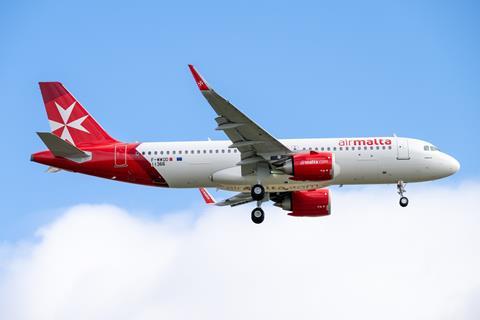 "What we are doing differently today is that we are doing one process that we started seriously with the Commission from beginning to end, and today we are giving certainty and stability in the long run," Abela told the Maltese Parliament on 2 October.
He says that, significantly, it has secured agreement for the airline to operate eight aircraft, in line with Air Malta's existing fleet, and a network plan that would mean passenger numbers of the successor carrier would match current levels despite fewer routes.
While similar successor carriers in Europe, such as ITA Airways replacing Alitalia in Italy in 2021, required trimming operations substantially to gain regulatory approval, Abela says Malta insisted that retaining a fleet of eight aircraft was the right size for the carrier.
"We know this from the way it has behaved in recent months, from the way the company has behaved when it had a fleet of ten, nine and eight," he says. "We also know the advice the technical experts gave us that the right size of this company is eight planes. We have arrived with the Commission to work with a fleet of eight planes."
The carrier will cut its network to 17 routes. Cirium data shows Air Malta currently operates 23 routes and has previously flown more than 40.
"We wanted to keep flying to the destinations that are the most crucial. That's how it will be done in the schedule structured according to expert advice in the aviation sector, a schedule whose main feature will be that it increases the seat load factor from what was traditionally around 75%," he says, noting this has already increased for Air Malta.
"This ties in with the point that every flight made by Air Malta must be one which is profitable," Abela adds. "Another principle that we will stick to is that if we want this company have a future – and we are determined to give it a stable future – from every flight that flies, the company wants make a profit."
Air Malta has not disclosed financial results since the year ended March 2018, but has long struggled to be profitable. This previously required it to undertake a restructuring to secure a capital increase.
The higher load factors envisaged under the five-year plan means it is projecting passenger numbers at or above the 2 million it flies today.
Malta has been working with Knighthood Global, the UAE aviation consultancy headed by former Etihad Airways chief executive James Hogan, to develop the strategy for the new carrier.
Hogan says: "In a complex process of strategic business planning and negotiations, we worked collaboratively on the ground with the executive chairman of Air Malta, the government, and the European Commission to shape a new future-proof airline that will enhance the country's business environment and ensure its global competitiveness.
"We strongly believe that Malta can re-establish a sustainable and proud airline to serve all segments of the market."
Knighthood highlights the key drivers of a "robust network of key destinations and a modern, fuel-efficient fleet" in the business plan.
The new carrier will also have a streamlined workforce. It will employ 375 staff, which Abela says compares favourably against previous staffing levels when it had 1,000 people to operate eight aircraft. "We are saying this to understand how much the company's efficiency will be increasing," he says.
Air Malta this year marks its 50th anniversary and the brand is held by the government. The Commission requires a competitive tender to be held for another airline to use the name, but Abela notes the new carrier will be "in a strong position" to enter that process.