Malaysia turboprop operator MASwings faces daunting operational challenges in its mission to support remote communities in Borneo.
Tiny and remote airports located in the mountainous interior of Malaysian Borneo present particular issues, according to Muhammad Bari, the carrier's director of flight operations. Remote airports can suffer from short runways and a lack of communications to challenging fauna.
The airport of Mulu, for example, is one among many difficult destinations MASwings services. The airport is located near the Gunung Mulu National Park, a UNESCO World Heritage site famous for its caves – and bats.
Bari says that all flying to the airport ceases at 16:30 because this is when swarms of bats habitually emerge from the region's cave system.
"Once he sees one or two bats flying out of the caves, the pilot will immediately taxi back to the apron," says Bari.
Bari discussed made the remarks in a presentation at the recent IATA World Safety & Operations Conference in Hanoi. Cirium fleets data indicates that MASwings, a unit of Malaysia Airlines owner Malaysia Aviation Group, operates eight ATR 72-500s and six Viking Air DHC-6-400 Twin Otters.
Long Banga Airport, which MASwings serves with the DHC-6-400, is particularly challenging.
The runway, nestled in a narrow valley, is very short at just 600m (1,969ft). The airport has no navigation aids and only a small tower operated by ground crew. The fire services vehicle is a scooter equipped with fire extinguishers. Though the DHC-6-400 can carry a maximum of 19 passengers, it is restricted to carrying just nine in and out of Long Banga.
One challenge in the area is a lack of broadband Internet. While Kuala Lumpur has a programme to roll out the Internet in rural areas, the bandwidth around Long Banga and other such airports is limited.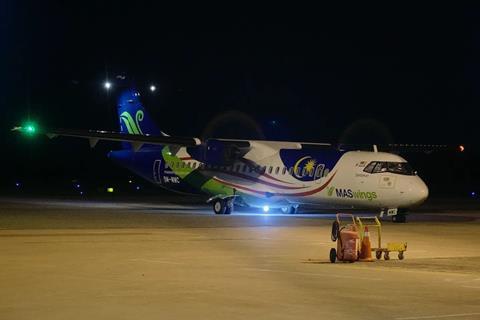 For pilots to assess landing conditions at the airport before they take off, the Long Banga ground crew WhatsApps low-resolution images of the runway to the MASwings head office, who then forward them to the crew.
Ten minutes before landing, the pilot radios ahead so that security guards can make sure the runway is clear from obstacles and people.
Bari describes a harrowing approach and landing: "The [pilots] need to decide whether they want to abort the landing before they decide to turn. Once they execute the turn into Long Banga they have to proceed…if they fail this approach, there is a mountain wall waiting for them."
While the new DHC-6-400 has good navigation aids, the previous generation of aircraft faced challenges navigating, especially given the homogenous appearance of jungle-covered hills. In the early 2000s a pilot was struggling to locate the Long Banga airstrip in the dense jungle. A local resident flying in the aircraft tapped his shoulder and pointed out the airstrip's correct location.
Despite the challenges, Bari says MASwings provides essential connectivity to remote communities: "It is our duty as a lifeline to connect the people and ensure the safety of our passengers."