An effort to revive UK leisure carrier Monarch Airlines has stalled, barely two weeks since its relaunch was announced.
A statement published on 31 August says the business's board has been "forced to put the brakes on" the relaunch process, citing "exhausted" start-up funding, which has been drawn down "far more rapidly than anticipated".
"At the current stage there is no practical option to move forward in the immediate future," the statement continues, adding that the business is attempting to find "alternative routes, such as the partial divestment of share capital".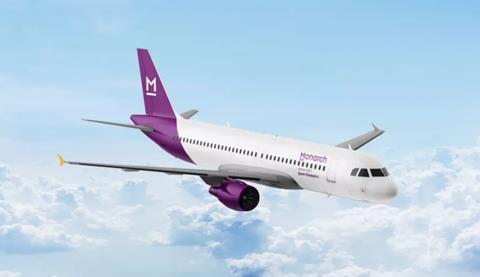 It was only in mid-August that a bid to revive the brand was announced, following the appointment of Daniel Ellingham as the sole director, effectively the board chair, of both Monarch Airlines and sister company Monarch Holidays.
He outlined plans to have the airline operational by mid-2024 using a small fleet of Airbus A320-family jets.
The stalling of the launch plan comes just days after the revived business unveiled new branding and a livery for its aircraft.
Monarch Airlines collapsed in 2017, ending its long history of serving leisure markets from the UK. It spent the final two years of its existence focused on scheduled services, having shifted away from its historical charter market model.