Finnish sustainable aviation fuel supplier Neste is teaming up with petroleum heavyweight Royal Dutch Shell to "significantly increase" the supply and availability of the lower-emissions fuel for the commercial aviation industry starting in October.
The agreement comes just over a month after the Helsinki-based company began supplying three of the USA's biggest airlines with renewable jet fuel at San Francisco International airport.
Alaska Airlines, American Airlines and JetBlue Airways began using the low-carbon gas, made from 100% renewable waste and residue sources earlier this year.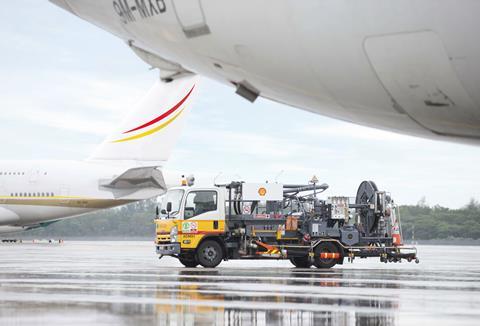 "To tackle climate change and reach net zero emissions, the aviation industry must act fast," says Anna Mascolo, president of Shell Aviation. "Shell Aviation aims to reduce the carbon intensity of the fuels we sell which includes selling more lower-carbon fuels like sustainable aviation fuel, over time."
Neste says that its sustainable fuel reduces greenhouse gas emissions by up to 80% compared to fossil jet fuels, and thus helps airlines achieve their sustainability targets.
"[Sustainable aviation fuel] offers the only viable alternative to fossil liquid fuels for powering commercial aircraft with an immediate potential to reduce aviation's greenhouse gas emissions," says Neste's executive vice-president for aviation Thorsten Lange.
The aviation industry, which, prior to the coronavirus pandemic, accounted for about 3% of global man-made CO2 emissions, has committed to sustainability goals under an ICAO-led framework called the Carbon Offsetting and Reduction Scheme for International Aviation.
That effort calls for the airline industry to cap carbon output at 2020 levels and to cut emissions to half of 2005 levels by 2050.
Neste has said that its global sustainable aviation fuel capacity is currently 100,000 tonnes (220 million pounds) or 129 million litres (34 million USgal), and it is working towards being able to produce 1.5 million tonnes or 1.9 billion litres per year by 2023.