Virgin Australia has taken delivery of its first Boeing 737 Max 8, kickstarting the airline's fleet growth and renewal programme.
The aircraft (VH-8IA) – on lease from lessor CALC – is the first of 33 737 Max aircraft that the airline will take delivery of over the next five years. Virgin Australia has eight Max 8s and 25 larger Max 10s on order.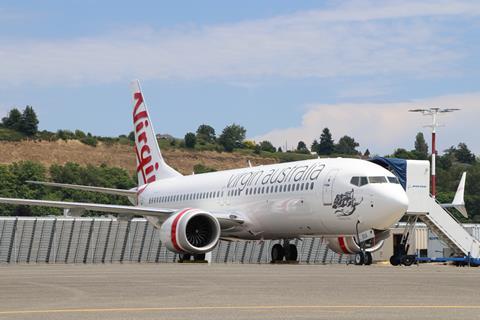 The new jet will enter commercial service at the end of July, where it will be deployed to fly the Cairns-Tokyo Haneda service, a new route which is being operated by 737-700s.
Airline operations chief Stuart Aggs says the new aircraft are a "critical part" of the airline's transformation - both operationally as well as in its sustainability efforts - noting the type's fuel efficiency credentials.
Adds Erika Pearson, Boeing's vice president for commercial sales and marketing, Southeast Asia and Oceania: "Operating younger, more fuel-efficient 737-8 airplanes will support Virgin Australia to take key steps in meeting its sustainability goals, while providing passengers with enhanced comfort and a more enjoyable flying experience."
In December 2020, Virgin Australia, which had just emerged from administration under new owners Bain Capital, nixed its commitments for 48 737 Max aircraft, which comprised 23 Max 8s and 25 Max 10s. Instead, it placed a fresh order for 25 Max 10s.
In April 2022, the airline added an order for four Max 8s with another four announced in August the same year.
The carrier is the second Australian operator of the 737 Max. Low-cost start-up Bonza, which began operations in January this year, also operates the 737 Max 8.