The new chair of IATA's board of governors has described as "mind-boggling" her first experience of aviation's lack of gender diversity, stating that the industry still has lots of work to do on the issue.
"I remember my first [IATA] AGM was in Sydney in 2018, and walking into there and saying 'whoa, what is going on' – lots of grey suits and very few women," RwandAir chief executive Yvonne Makolo tells FlightGlobal at the IATA AGM in Istanbul on 4 June.
"It was mind-boggling for me to see what was happening in the aviation sector," she states, citing the contrast with the experience in her home country.
"Rwanda… is very deliberate with female representation, whether it's parliament at 61% or cabinet at more than 50%, whether it's in the corporate sector where we have several women leading big organisations," she says.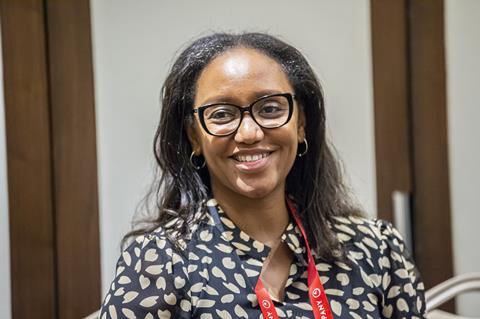 Makolo is IATA's first female chair, having taken up the role as this year's AGM closed – a development that is "an honour for me", she states.
"It's a bit overwhelming, but I think it's great for female representation. I hope this is the beginning of a new phase for the aviation sector."
Importantly, her appointment shows "a different face of aviation leadership", Makolo says, "being not only a woman, but a woman of colour and, for the first time, an African chairing the board".
And in that role, she will make gender diversity a key priority, describing IATA's 25by2025 initiative as a "good step".
"It's important to me," she says. "And it's also important for me to bring to the forefront African aviation as well, which has been neglected a lot, I believe."
On addressing gender diversity, Makolo is clear that, like her home country, "the industry needs to be very deliberate about the issue". Today, she says, "it's getting the attention that it deserves, but in terms of implementation, a lot more needs to be done".
Her ultimate ambition is that once the 25by2025 deadlines have passed, the topic of gender diversity at airlines becomes a "non-issue" as soon as possible.
"We should not be talking about the need to have female representation," she says. "It should be the norm, rather than the exception.
"Neglecting 50% of the population in an industry that is so important – for me it doesn't add up. I really hope by 2030 it will be normal."
By that year, her hope is that "we will have had three more female chairs of the [IATA] board and the percentage of female pilots will be much more than the current less than 10%".
FlightGlobal's latest survey of gender diversity at the top 100 passenger airlines showed that some 15% of C-suite executives were women at the end of 2022, including 12% of chief executives. The data continued to show an improving trend year on year, albeit a very marginal one.