Nok Air has outlined plans for a capital and debt restructuring alongside its ongoing business rehabilitation process to improve its financial health and avoid being delisted from the Stock Exchange of Thailand (SET).
On 9 September, the SET warned Nok that it was subject to possible delisting and has given the airline one month until 8 October to set a timeline to implement its rehabilitation plan.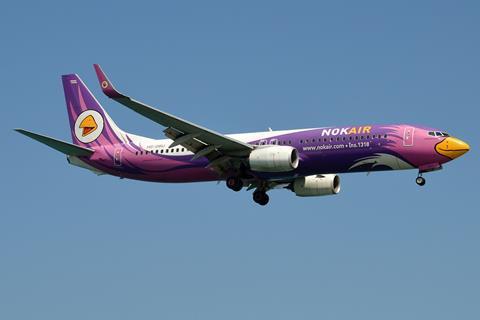 In a 10 September disclosure to the Stock Exchange of Thailand, the carrier outlined measures it said it would take to remedy its negative shareholder equity and return to profitability.
The measures include the "improvement" of its fleet, including the types of aircraft it operates, to make it "suitable for current situation" and reduce costs, especially on fuel and maintenance.
It adds that it will negotiate to "significantly" reduce both short- and long-term aircraft lease rental rates and amend lease agreements accordingly, as well as restructure debts with all groups of creditors. That process has already been underway since at least last month, according to a person with direct knowledge of the matter.
The carrier also indicates it will undertake organisational restructuring to be "effective and efficient", as well as to "improve management direction and communication".
In addition, Nok is aiming to increase revenue from its cargo operations, and has prepared a plan for additional passenger routes for "after the situation regarding the spread of [the] Covid-19 pandemic is positively improved". It did not give further details, saying only that it expects this to be "a major factor" that will "drive [our] net profit to become positive again".
Nok expects the overall business outlook to recover in 2022, which it says will support its "airline business to return to normal under [an] efficient capital structure", including a capital injection.
The airline adds that it will continue to report on the progress of its business rehabilitation, which is currently under consideration by Thailand's Central Bankruptcy Court and could be approved at a 15 September hearing.