Norse Atlantic Airways has applied to the US Department of Transportation (DOT) for a foreign air carrier permit on behalf of its UK subsidiary, Norse Atlantic Airways UK.
The company says in its filing, dated 22 June, that it set up the subsidiary because of the the UK's exit from the European Union, also known as "Brexit".
"Due to the withdrawal of the United Kingdom from the European Union, Norse Atlantic UK was established to enable the operation of non-stop scheduled passenger flights between the United Kingdom and the United States under the new US-UK open skies agreement," says the carrier.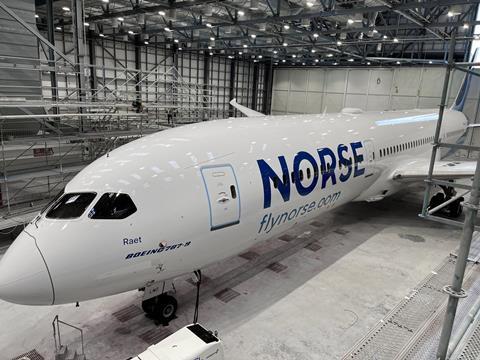 Norse Atlantic UK plans to offer initial services between London Gatwick and New York, Fort Lauderdale and Orlando. Later, it says it will operate flights between London Gatwick and Los Angeles, San Francisco, Chicago, and Washington DC.
At some of those destinations the company is targetting secondary airports on the outer periphery of the respective metropolitan areas.
For example, in the New York area it proposes to fly to Stewart International airport, about 76 miles (122km) north of the city. In the Chicago area it will land at Chicago Rockford International airport, 85 miles northwest of Chicago proper. The Washington DC flight will land at Baltimore/Washington Thurgood Marshall airport, about 33 miles away, and the Los Angeles basin will be served via Ontario International airport, about 39 miles from downtown.
The Oslo-based airline says it plans to launch the routes in "late 2022" with eight Boeing 787 Dreamliner aircraft in a two-cabin configuration, with room for 338 passengers. It expects to receive its UK air operator certificate "in the next few weeks".
"Norse Atlantic UK plans to further expand its service over time to other points in the United States to meet passenger demand," it adds.
The carrier says that last September it entered into an agreement with the British Airline Pilots Association (BALPA) for cockpit crew that will create "hundreds of jobs". At the time, BALPA said it was "incredibly impressed" with Norse's business plan and that it promises to "provide sustainable long-term careers" on transatlantic routes.
"Norse Atlantic UK is currently working with the labor union Unite to develop a collective bargaining agreement for UK-based cabin crew and is also in dialogue with additional unions potentially representing other groups of employees," Norse adds. "All employees are being directly employed by the airline."
The Scandinavian long-haul start-up airline launched operations on 14 June with an inaugural flight between Oslo and New York's John F Kennedy International airport. It's also begun flights between Oslo and Fort Lauderdale on 20 June, and plans to introduce routes from Berlin to several destinations across the USA in the coming weeks.
The airline was founded in March 2021, shortly after budget carrier Norwegian – struggling to emerge from a restructuring process – opted to ditch its long-haul, low-cost division which used a fleet of 787s.