Norwegian is expecting one of its strongest-ever summer seasons after a first quarter during which it claims to have successfully limited losses.
The Scandinavian low-cost carrier has made low-season capacity reduction a key part of its long-term strategic planning, after chief executive Geir Karlsen's assessment that the business's historical full-year losses were partly driven by overcapacity during the winter.
Still, its operating loss of NKr917 million ($86 million) in the first quarter of 2023 was 8% deeper than that seen during the first quarter of 2022. That was despite revenue doubling over the same period, from NKr1.9 billion to NKr4.0 billion.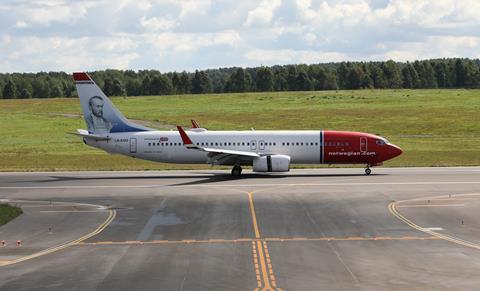 Its first-quarter net loss of NKr993 million was a slight improvement on the NKr1.0 billion net loss recorded in the same period of last year.
Norwegian's revenue increase came as its served 3.8 million passengers, up from 2.2 million in the first quarter of 2022, on a load factor of 80.9%. Norwegian suggests that such a load factor reflects the success of its effort to structurally match capacity to demand in its seasonally weakest three-month period. Its first-quarter capacity was down 13% from the fourth quarter of 2022 and more than 30% from the third quarter.
Norwegian says its liquidity position improved during the three months, with cash and cash equivalents rising to NKr8.6 billion, from NKr7.5 billion.
That comes amid optimism about the summer period, amid strong booking momentum, in line with sentiment among its European peers.
"This quarter is a strong demonstration of our ability to adjust capacity to seasonal fluctuations in demand and to prepare well for the busy summer travel season ahead," says Karlsen.
Norwegian will operate 81 aircraft during the summer season, it projects, having secured additional capacity despite industry-wide delivery delays. It ended the first quarter with 72 aircraft in its fleet.
June-August 2023 fares are trending around 25% higher year on year, it notes.