Scandinavian low-cost carrier Norwegian is working on raft of measures to offset the impact of the high-cost environment, including through the removal of certain "add-ons" from its incoming Boeing 737 Max jets.
Outlining a strong third-quarter performance on 2 November, chief executive Geir Karlsen nevertheless said the operator is taking extra steps to ensure "sustainable profitability" amid high yields but significant cost headwinds.
"We have to do this, we have to push it extremely hard, and I think we will show results as we go down into 2024," he says.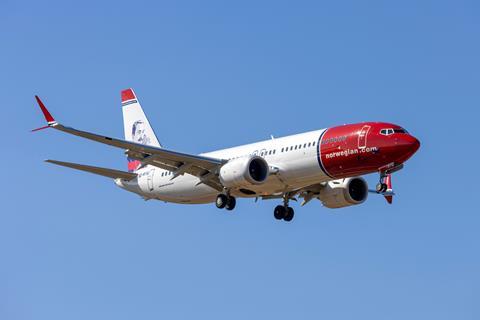 Those headwinds include the Norwegian krone's falls against the US dollar and euro, which added 6% to unit costs year on year in the third quarter. Weakness against the dollar was particularly pronounced, Karlsen notes, pushing up costs paid in the currency, including those related to fuel and leasing. Meanwhile, inflation hit a whole range of costs, he says, adding 5% to unit costs on the same basis.
At the same time, the carrier's push into more corporate markets is adding to its distribution costs, Karslen says, although it is also bringing a "significantly positive" impact on profit through extra, higher-yield revenue.
Among a long list of fresh operational and structural initiatives that Norwegian is working on to push costs down, Karlsen says the weight of up to 80 incoming 737 Max jets from its order with the airframer – the first of which is due for delivery in 2025 – will be reduced by the removal of "low-value add-ons" and "optimisation" of specifications, which will contribute to lower operating costs.
"We have been going into the specification in detail, to adjust the specification more in accordance with the market we are flying," he says, insisting that the customer experience will not be affected.
As well as the operational savings those adjustments will achieve, Karlsen says that based on the order price agreed with Boeing in 2022, "we will reduce the capex on the 50-80 aircraft order by millions of dollars".
At the same time, Karlsen says a "harmonisation" process is under way with Norwegian's existing fleet, through which 189 seats will become standard in its 737s – whether NGs or Max jets. Some of its aircraft currently have 186 seats, so the carrier is adding three seats to those examples, bringing more revenue opportunities and reduced complexity in ticket sales, while smoothing overbooking processes, Karlsen says.
The opening of new bases outside the Nordics will also help the carrier to optimise its costs, Karlsen suggests, by giving it more flexibility to move capacity, helping seasonality in particularly. Adding to the Barcelona base Norwegian opened in summer this year, it plans to open a summer base in Majorca next year, alongside one in the Latvian capital, Riga.
"From eight this year, next year we will have 13-15 aircraft based in Spain," Karlsen says of Norwegian's fleet, which is forecast to feature 90 aircraft in summer 2024, up from 85 this year.
Furthermore, Karlsen says the carrier will achieve a 20% reduction in its heavy maintenance costs by switching provider, while new ground-handling agreements will benefit its bottom line, as will more self-service systems for passengers and employees, and an effort to take more revenue through direct channels.
Norwegian is also pressing ahead with its previously announced strategy of cutting its capacity during the low season, with November 2023 to February 2024 capacity forecast to be 30-40% down on levels operated in October this year. By removing the variable costs associated with that cut capacity, the business is able to take out about 70% of the cost base for those dropped services, Karlsen says. The airline expects the capacity reduction will result in a positive profit contribution of NKr1.0-1.5 billion.
Karlsen also highlights a series of cost improvements already achieved in 2023, including a relatively strong on-time performance – which saves costs related to crew, fuel, handing, air-traffic control and EU261 compensation claims, he says – improved crew efficiency through the boosting of block hours by 6% year on year, the securing spare engines to reduce time-on-ground for its fleet, and the achievement of fuel savings of 2-5% through the use of SkyBreathe technology in its cockpits.
In terms of structural measures introduced this year to reduce costs, Norwegian has taken over its own handling at Oslo airport, added more agility into its route planning to favour higher-yield services, moved aircraft maintenance and crew training to the low season, and continues to embrace fuel hedging, Karlsen says.