Scandinavian low-cost carrier Norwegian has reported "encouraging" booking trends through to the end of the year, after it achieved its second-highest-ever operating profit during the third quarter.
Its operating profit of NKr2.17 billion ($194 million) for the July-September period – which equates to an EBIT margin of 25% – was only beaten once before in the company's history, in the same three months of 2019, when the carrier's fleet was around twice as large.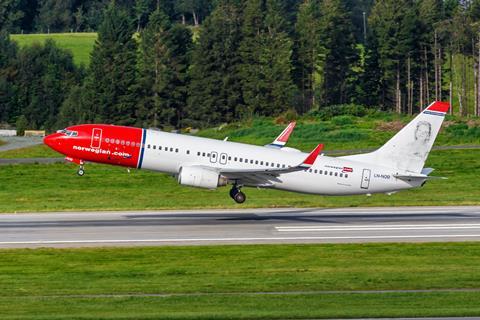 It was achieved on revenue of NKr8.78 billion during the seasonally strong period, which was up by more than NKr1.5 billion year on year. Its net profit more than doubled on the same basis to NKr2.04 billion.
Ticket revenue yields were up 6% year on year, as strong travel demand continued to support earnings.
Load factor dropped slightly year on year, to 87.4% from 88.8%, on capacity up 17% on the same basis.
"Thanks to the outstanding effort of the entire Norwegian team, we can look back at one of the best quarters in our 21-year history," says chief executive Geir Karlsen. "I am very satisfied that our financial results are strong.
"We have also delivered an operational performance as one of the absolute top airlines in Europe with a remarkably low number of cancellations and strong on-time performance."
Norwegian says its liquidity position increased to NKr9.4 billion at the end of the quarter and that it is forecasting a full-year operating profit of NKr1.8-2.0 billion.
It notes a cost impact from the weakening of the Norwegian krone against the US dollar and euro, alongside inflationary impacts on supplier costs and employee salaries – factors which are pushing up unit costs.
The carrier says it has "not observed any sign of weakness in forward bookings", but adds that it remains "mindful of demand uncertainties following a potential deterioration in consumer confidence".
Norwegian forecasts low-single-digit capacity growth year on year in the current quarter and the first three months of 2024. For the second quarter of 2024, it sees capacity up 15-20% year on year.
It ended the third quarter with 85 aircraft in its fleet and plans to operate 90 during next year's summer season. Before then, capacity will be reduced by 30-40% during the winter months compared with the end of the third quarter, as part of a previously announced strategy to counter the airline's historically poor financial performance in the low season.