Norwegian is signing lease extensions for some of its Boeing 737-800s amid delays in the delivery of 737 Max 8 jets and a tightening market for leased aircraft caused by groundings related to Pratt & Whitney geared turbofans (GTFs).
"We have already signed extensions on the leases of three 737NGs and we are in discussions to maybe extend a few more… for maybe two to three years… because we expect the delays from Boeing will continue, most likely into 2025," said Norwegian chief executive Geir Karlsen during an earnings call on 2 November.
Norwegian is due to receive more 737 Max 8s from lessors next year, then to begin taking examples from its own order with the airframer in 2025. They are being used for fleet replacement and growth.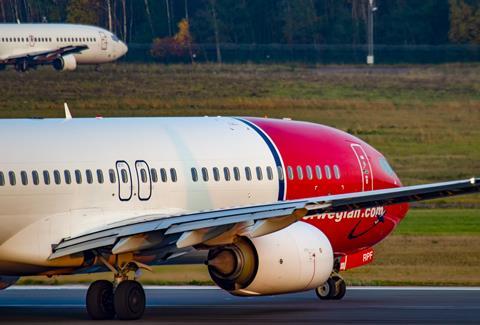 "We are seeing delays in the area of four to six months for 2024 deliveries," Karlsen says.
The imperative for Norwegian to act promptly to secure its capacity is heightened by the spectre of hundreds of Airbus narrowbody aircraft being grounded through 2024 to address issues with GTF engines, tightening an already tight global market for short-term capacity.
Even though Norwegian is not directly impacted by the groundings – Max jets are powered by CFM International Leap-1B powerplants rather than the GTF – Karlsen predicts a significant impact on the leasing sector.
"It tells us that the leasing market going forward will be tight, because people will be looking for aircraft," he states. "If you go to the leasing community today you will be able to get a 737 Max, for example, in 2025 but it's starting to get really, really expensive.
"What it also tells us is that the wet-lease market next summer will be very, very tight – we are already seeing signs of that, because people are lacking aircraft," he adds.
Extending the leases of some of its 737-800s means Norwegian can avoid being caught up in that fight for capacity, Karlsen explains.
Speaking on the same call, Karlsen suggested Norwegian is increasingly warming to the idea of using its 30 options with Boeing to take some 737 Max 10 aircraft to complement the 50 Max 8s it has on firm order.
Today, Norwegian's all-leased fleet features around 85 737s, of which 20 or so are 737 Max 8s.