Norwegian is seeing no slowdown in the strong bookings trends it has experienced so far this summer, with its profitable second-quarter performance expected to extend into the current three-month period.
Outlining its results for the April-June period on 24 August, the Scandinavian low-cost carrier reported an operating profit of NKr651 million ($61 million) on operating revenue up 41% year on year at NKr6.9 billion. Its net profit came in at NKr538 million.
While Norwegian's profitability has fallen significantly on a year on year basis, that is only because the carrier booked the reversal of an impairment in the second quarter of 2022, which hugely inflated its profitability in that period.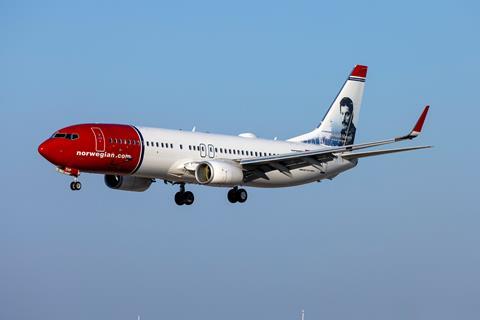 "The summer season of 2023 will be one the best in our history and I am happy that forward bookings remain strong with business travel returning and others planning their autumn holidays," says Norwegian chief executive Geir Karlsen.
"All in all, it looks promising," he continues. "That's why we can say that the third quarter is going to be an historically strong quarter, no doubt about that."
Karlsen notes that the booking strength in November and December is too early to call at this stage, "as the booking curve is still relatively short".
Drilling down into its financials, Norwegian says that unit revenues were higher in the second quarter of this year against both 2022 and 2019, with that trend continuing into the current three months.
High inflation and the weakness of the Norwegian Kroner are, however, having an impact on costs, making that an area of focus for the business in the coming months.
Norwegian's liquidity position improved by 24% year on year, as it ended the quarter with cash and cash equivalents exceeding NKr9.3 billion.
Highlighting what it describes as a strong operational performance during the quarter, Norwegian notes that, unlike many peers, it has operated this summer without recourse to wet-lease capacity. Karlsen says that the exclusive use of its own metal helped it to achieve industry-leading punctuality and reliability during the period.
Many other carriers in Europe – particularly those with a high proportion of new-generation aircraft in their fleets – have seen aircraft grounded for extended periods due to parts shortages and other MRO issues, including high-profile cases such as the Pratt & Whitney PW1500G engines that power Airbus A220s. That has forced some airlines to secure wet-lease capacity to fill the temporary fleet gaps.
Norwegian ended June with 81 Boeing 737-family aircraft in its fleet.
It reiterates its intention to reduce its capacity by 30-40% in the winter months – partly through the dropping of summer holiday destinations and through reduced frequencies elsewhere – in line with a structural move by the business to reduce losses in the down season.
Meanwhile, the carrier says it is continuing to work on the acquisition of compatriot regional carrier Wideroe, which it expects to close by the end of the year, once regulatory approval is received.
It is also working on a recently announced partnership with Strawberry, formerly Nordic Choice Hotels, to establish a joint venture to deliver loyalty programmes. That deal is still subject to regulatory approval, which is also expected by the end of this year.
While Norwegian believes it has undertaken a successful business transformation programme over the past four years, the acquisition of Wideroe and the forming of a joint loyalty business have prompted the board to initiate a process "to ensure that the company's capital structure reflects this, a process that also looks to enable for a potential dividend distribution", it says.