Norwegian made a net loss of NKr23 billion ($2.7 billion) in 2020, dramatically deepening one of NKr1.61 billion in 2019, as its long-haul low-cost business model was devastated by the Covid-19 pandemic.
Amid an 82% cut in available seat-kilometres, revenue tumbled to NKr9.1 billion, from NKr43.5 billion in 2019.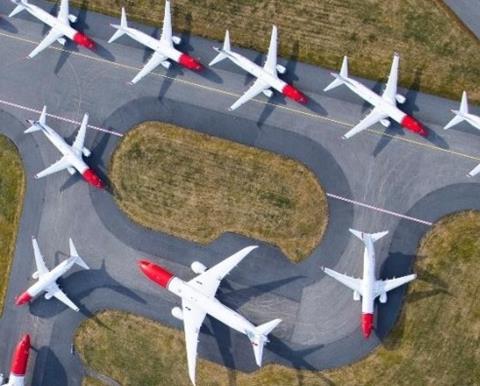 Fourth-quarter capacity was slashed by 96%.
In November, Norwegian entered into an examinership and restructuring process that it hopes will enable it to reduce its fleet, cut its debt and secure new capital as part of its transformation into a Norwegian domestic and European short-haul carrier.
Noting that this effort is "on track", the airline warns that without a successful exit from the process it would be "highly likely that the company will enter into liquidation and/or bankruptcy proceedings during the second quarter of 2021."
The company's results were heavily impacted by NKr12.8 billion in fourth-quarter impairments as it adapted its fleet to a smaller network. From a fleet of 131 aircraft at the end of 2020, it aims to operate a maximum of 53 jets this year, depending on the progress of the pandemic, and is currently using just 10.
"Despite the difficulties the pandemic has caused, there is a great fighting spirit and engagement within the company, and together we will build new Norwegian when we exit the reconstruction processes," states chief executive Jacob Schram.
"Now, we are doing everything we can to emerge as a more financially secure and competitive airline with an improved customer offering, and as soon as Europe begins to reopen, we will be ready to welcome more customers on board."
Should the company make it through examinership, the rapid rollout of vaccines in its core markets "may create a pent-up demand for the second half of 2021", it notes.
As part of its transformation the carrier hopes to reduce its debt to around NKr20 billion and raise NKr4-5 billion in new capital. In 2020 it slashed net debt by NKr18 billion, mostly through equity conversions.