LATAM Airlines Group chief executive Roberto Alvo has warned that Latin America is making no progress on the development of a sustainable aviation fuel (SAF) industry, putting at risk airlines' ability to meet net-zero targets.
Speaking on a panel of airline leaders at the IATA World Sustainability Symposium in Madrid on 3 October, Alvo concurred with peers that SAF is critical to the industry's net-zero ambitions and that "today is not the time to think that this won't happen".
But the situation in Latin America is stark, Alvo explains, with SAF production essentially non-existent, leaving the region "one step behind".
"Today there is not a single drop of SAF being produced in South America," he says.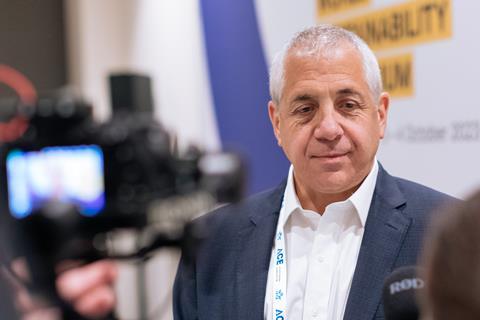 LATAM Airlines has set its own target of 5% SAF usage by 2023, but this is "not because we know where this is going to come from – it's just because we need to make sure that we can start this conversation", Alvo says, adding that he does not think the airline "has the luxury" of failing to do so.
"We needed a sign of demand, as the largest airline group in the region," he states.
That sign has so far been met with no response, and Alvo is reluctant to consider the imposition of formal mandates by governments and regulators until that changes.
"Unfortunately at this point in time, we have no set of public policies to incentivise producers to start thinking about SAF," he states. "Today, I don't have any confidence that we will get even close to 5% [by 2030] with the current set of policies that we have."
In common with peers elsewhere around the world, he suggests that "clarity and certainty of investment" are crucial if fuel producers are to build SAF plants, arguing that it is important for policymakers to clarify the conditions under which the fuel can be produced.
At the same time, "we need to think about how to bring in South America and Latin America into this conversation at the pace that we can take", Alvo says, adding that policy approaches in other geographies – such as Europe's SAF mandates – would not work in the region.
He explains that Latin American carriers are often operating in "poorer countries" with lower yields and geographies where customers do not have the option to consider alternative forms of transport.
It is important, therefore, that policy solutions on SAF do not "kill the industry altogether" by bringing about extra costs that airlines and the travelling public cannot afford.
And extra costs are inevitable. Speaking at the same event in Madrid, IATA director general Willie Walsh said that "whatever way you look at this, there will be a cost for the transition to net zero and ultimately that cost will be borne by consumers".
"We need to develop the industry in a sustainable way," Alvo says, noting that if LATAM Airlines Group were to cover all of its fuel useage with SAF today, the cost would exceed all of its revenue.
He further provides a reality-check on the timescales involved.
"A [SAF] plant takes four or five years to build," Alvo says. "Today in Chile, just getting the permits for a billion dollar investment will take an additional four or five years.
"So we're 10 years away from seeing the first crop of SAF being produced in Chile if we started today, and people are not starting today because they don't have a clear path on which to think about the decisions of investment."
That is frustrating, Alvo suggests, because "the feedstock is there, the technology is there and the people are there".
Furthermore, the creation of a SAF industry "is also a great opportunity for economic development in the region", he says.
"But we need the right framework".
Alvo also says that the industry and policymakers need to keep an open mind on other measures in the net-zero journey, with SAF not being a "silver bullet".
Acknowledging that carbon offsetting has downsides, he explains that LATAM is instead directly investing in projects, including one that protects "0.5% of the surface of Colombia".
"Those wetlands capture tonnes of carbon per hectare," Alvo says.
Such work is important, he insists, because SAF and other efforts will still leave the airline sector with residual emissions that will need to be accounted for.
"We are not going to get to net-zero if we do not either sink carbon by industrial means or sink carbon by natural means," he states.
Whatever the means, Alvo is clear that airlines can only do so much on their own.
"I'm willing to be confident [about net-zero targets], as long as all the stakeholders face the same path and do this in the same direction, because this is not something we are going to solve by ourselves," he concludes.