British Airways chief executive Sean Doyle believes the carrier is demonstrating its commitment to meeting emissions targets goes well beyond offsetting measures after unveiling a fresh programme of initiatives tackling the impact of climate change.
The Oneworld carrier on 8 September outlined a partnership with Air BP to source sustainable aviation fuel (SAF) to cover its flights linking London with Glasgow and Edinburgh during the upcoming COP26 climate conference, which is being held in the former, as well as enabling customers to buy SAF to further offset their carbon footprint on flights.
The initiatives form part of the carrier's wider "BA Better World" programme, which it highlighted with a repainted Airbus A320neo – the most fuel efficient aircraft in its fleet.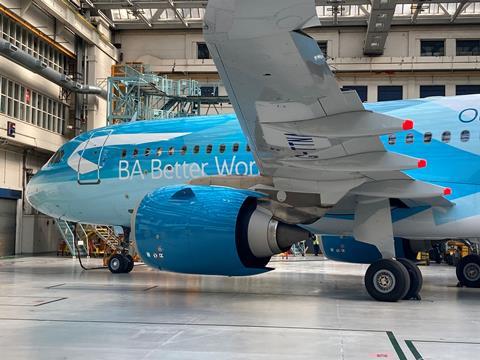 Unveiling the programme at a London Heathrow Airport event, Doyle highlighted the commitments BA has already made to tackle its environmental impact, which include its pledge to reach net-zero CO2 emissions by 2050.
"The aircraft serves as a constant and visual testament to our colleagues, customers and to all of our stakeholders of the commitment we are making today, which is to put sustainability at the heart of our business," says Doyle.
"The aircraft is part of a much bigger story for British Airways, about how we emerge from the pandemic, thrive and have a more sustainable future.
"Our commitment has not wavered, even during the pandemic, with the incredible financial strain it has put us on. So far this year IAG became the first European airline group to commit to having 10% of all flights powered by sustainable aviation fuel by 2030; British Airways' investment in LanzaTech will see SAF arrive on our flights by the end of next year."
Doyle notes the move to give customers the chance to buy SAF for their flights as well offsetting their carbon emissions is "another opportunity to create awareness".
He says: "Offsets are an interim part of the solution. They are something we can access right now, they have a meaningfully positive impact, and they support projects in communities around the world which as well as offsetting carbon are very important for biodiversity.
"In the future we expect offsets to migrate into supporting funding and research into carbon capture technology, but we have more than offsets we are commiting to. New technology is important, sustainable aviation fuel is also realisable in the near-term, because we will be putting SAF on our planes at the end of next year. And we are innovating in new forms of propulsion with out partnerships."
BA in March invested in hydrogen propulsion developer ZeroAvia, and the following month pledged to power 10% of its flights with SAF by the end of this decade.
"10% is very ambitious," says Doyle. "It creates the demand for the industry. We need now to create the supply. We don't have a SAF plant in the UK, we are trying to develop one in Humberside [with Velocys] and that is making good progress. If more supply is there, these targets can be revisited. But I think in the context of the next 10 years it is by any measure a very ambitious target."
Governments need to play their part as well, he argues: "I think the first thing we need to do is get investment in SAF. New plants need seed funding, because when you start this journey the first couple of plants are high risk for investors, so seed funding is critical. We think creating a market place will provide a bit of price certainty for investors, because it is high risk in terms of creating new markets," he adds.