The Covid-19 crisis has forced lenders to reassess their traditional view of flag carriers as relatively safe credits due to their implied government support, two aviation financiers have suggested.
Going into the crisis in March, Deutsche Bank's Richard Finlayson expected Asian governments to be more supportive of their airlines and provide more "obvious support".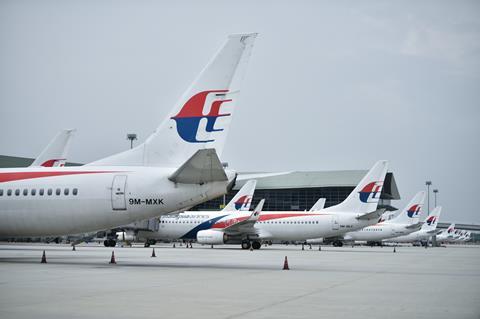 Speaking during virtual Airline Economics Growth Frontiers Hong Kong 2020 conference on 4 November, he noted: "We're now six months in and we're seeing North America, particularly the US government, providing what seems like unlimited support to their airlines. The European airlines, clearly the flag carriers in Europe, are getting a lot of support from the governments."
Finlayson, who is managing director of asset finance Asia at the German bank, adds: "When we look at Asia, it's a very mixed outcome as to the level of actual support that's been delivered on, and I think what you could see is probably China and Korea as the high-water marks and then it sort of tails off pretty quickly."
He points to the various Asian flag carriers, including Thai Airways and Malaysia Airlines, that have announced restructurings.
"I think [that] a number of these [Asian] flag carriers have had systemic issues for a number of years with the competition from low-cost carriers, and that this crisis has really highlighted those structural deficiencies in the traditional flag-carrier model," he says.
"It feels like we can't rely on just unlimited government support for these airlines – that they ultimately will do a restructuring – and it is yet to be seen as to how these airlines will come out the other side."
Arnaud Fiscel, head of transportation at Bank of China's London branch, notes the "very large spectrum of government attitudes" between countries as regards flag-carrier support.
"Certain countries' governments have provided indirect support, essentially through furlough schemes in terms of jobs, or tax deferrals, and sometimes this was together with a strong direct support which can be either through equity injection or a debt guarantee provided to existing or new lenders. Some countries did not provide support, either because they were unwilling to or unable to do so," he says.
He adds that even before Covid-19 there has been "some limitation" with the concept of a flag carrier.
"I would like to say basically that the flag carrier, or an airline which is majority-owned by a country… does not translate into a guarantee," he says.
Fiscel points to the historical example of Swissair, the former Swiss flag carrier, which went out of business not long after 9/11.
"Clearly, the concept of flag carrier is not without limitation… However, we still value the concept of flag carrier – yes. Actually, we see flag carriers as essential to the economy, particularly in terms of tourism, and as such we do believe that in the long run they will be mainly supported by governments, even if in the short term some governments may take the view that the airline, under its current format, is not suitable to keep on doing business without a proper restructuring," he says.
"So I think the flag-carrier concept still exists, but beyond the actual support… of the government, I would like to say as a lender [that] what really matters, absent any formal economic support, is that the rights of the creditors remain preserved, and [are] not challenged by any political agenda."