The global passenger fleet is forecast increase by around 22,000 aircraft – or 86% – between end-2021 and end-2041 to meet growing demand for air travel, according to Ascend by Cirium.
Releasing its latest 20-year forecast on 24 January, the consultancy arm of aviation analytics firm Cirium says the increase would take the global passenger fleet to around 47,700 aircraft as 2041 ends, from 25,700 at the end of 2021. That total reflects 43,390 new passenger aircraft deliveries – worth $2.8 trillion – plus around 19,000 retirements and approximately 2,480 aircraft leaving the passenger fleet via cargo conversion.
The Cirium Fleet Forecast is based on passenger traffic – measured in revenue passenger kilometres – growing by 3.6% annually over the 20-year period. Cirium notes that the in-service passenger fleet is only forecast to return to pre-Covid levels in mid-2023, meaning up to four years of "normal" fleet growth have been lost.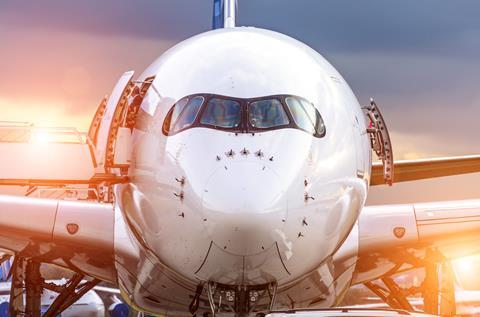 "The new Cirium Fleet Forecast shows a positive long-term outlook for aviation," says Rob Morris, Ascend by Cirium's global head of consultancy. "The industry is undergoing structural changes, but remains on course to return to traditional growth paths by 2025."
Single-aisle jets will dominate deliveries, Cirium suggests, at round 70% of the total units and 56% of the total value through to 2041. The annual growth in the twin-aisle fleet – 3.2% – will be behind that seen for single-aisles – 3.7% – "as the recovery of long-haul traffic continues to lag", it states. The regional aircraft fleet is forecast to grow by 1.1% annually, with turboprop deliveries expected to grow at a faster rate than those for jets across the 20-year period.
Asia-Pacific will be the key growth region for new aircraft deliveries, accounting for 22% of the total units over the period. Within that region, China will drive much of the demand, Cirium says.
North American and European airlines are projected to account for 21% and 17% of deliveries respectively, Cirium says, while Middle Eastern airlines will take 7% of deliveries.
In the cargo sector, Cirium predicts the supply of some 3,560 freighter aircraft over the 20 years, including 1,060 new-builds and 2,480 conversions of passenger aircraft.
"Although the current conversion boom may not persist, it is enabling the replacement of older, less efficient aircraft," it states.
Including freighters, the forecast says there will be demand for around 44,500 new aircraft globally over the next two decades, worth US$2.9 trillion.