Pegasus has reinstated its strategic focus on boosting load factors and ancillary income as the post-Covid travel boom subsides in the second half of 2023, bringing unit revenues down from the highs seen last year.
The Turkish low-cost carrier outlined that strategic "normalisation" on 15 August as it reported a "strong" performance in the second quarter of this year, during which it achieved a record EBITDA margin for the April-June period of 33.6%.
Looking into the current quarter and the final three months of the year, Pegasus explains that year-on-year comparisons will turn "increasingly difficult" after the "exceptionally strong" unit revenue environment in the second half of 2022. That was driven by "the rebound in pent-up demand after the pandemic", which had seen people flock back to air travel in a capacity-constrained environment, following two years of travel restrictions.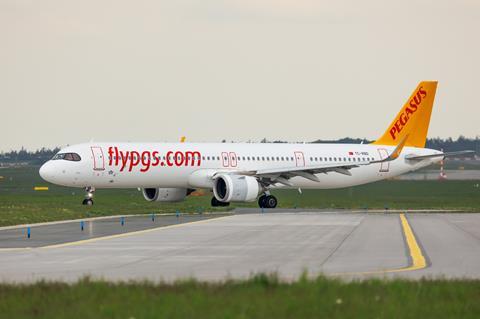 Already, international yields fell slightly year on year during the April-June period, as demand lost some of that post-Covid momentum. Based on yield projections and fuel price trends, Pegasus expects the spread between its revenue per available seat kilometre and its cost per available seat kilometre to "normalise" across the rest of this year.
Still, the airline – which offered capacity up 27% year on year in the second quarter, and up 60% versus the same period in 2019 – reiterates its guidance for a full-year EBITDA margin of more than 30%.
That guidance came after Pegasus saw its second-quarter EBITDA more than double year on year, to €221 million ($242 million), on revenue up 30% at €657 million "thanks to traffic growth and continued uptrend in ancillary segment".
Revenue was 61% higher compared with the same three months in 2019, in line with its post-Covid capacity growth, which has been focused on international markets. Indeed, while Pegasus' second-quarter domestic passenger count of 2.8 million lagged its April-June 2019 level by around 1 million, its 5.1 million international passengers were way ahead of the 3.6 million it carried in 2019.
The carrier swung to a net profit of €91 million in the second quarter, from a €40 million loss a year earlier.
Pegasus says its cash reserves reached €443 million at the end of the quarter, up from €372 million at the end of 2022. But its net debt rose slightly over the same period, from €2 billion to €2.1 billion.
It ended the second quarter with 101 aircraft in its fleet: 46 Airbus A320neos, 31 A321neos, eight A320s and 16 Boeing 737-800s.
As of mid-August, Pegasus says all of its outstanding aircraft orders are for A321neos, for which it has 78 commitments following the firming of a further 36 in mid-July.