Pegasus has signalled its intent to place a new aircraft order, as its Sabiha Gokcen airport home prepares to open its second runway.
Speaking during a briefing at the IATA AGM in Istanbul, Pegasus chief executive Guliz Ozturk said the carrier is still to receive 42 aircraft from its existing order for 114 Airbus A320neo-family jets, which will arrive through to 2026.
"Beyond that, we will be working on a new order… we don't have the numbers yet but you will be hearing from us," she says.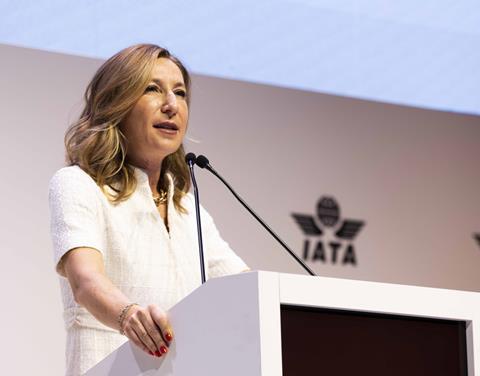 The extra aircraft will help the carrier to capitalise on strong demand, particularly in leisure segments, as it grows its international network. Aiding that growth is the opening of Sabiha Gokcen's second runway, which is expected in July this year, then the opening of a second terminal at the airport, which is expected in 2026.
"Turkey has tremendous growth opportunities and infrastructurally has room for growth," Ozturk states. "With the second terminal, of course we will utilise the double-runway capacity."
Currently numbering 99, Pegasus' fleet will surpass 100 aircraft this year, to reach 103 by year-end.
It initially placed an order for 75 A320neo-family jets in 2012, adding more units in the intervening period.
As of 31 March this year, its fleet included 17 Boeing 737-800s, eight A320ceos, 46 A320neos and 28 A321neos.