Philippine Airlines (PAL) confirms it is in talks to "secure additional aircraft", in an effort to boost its network and fleet reliability amid the global supply chain crunch.
The airline made the disclosure as it inducts an Airbus A321 to its fleet to operate domestic and regional routes. It is the first of several aircraft the company will receive in the coming months amid supply chain delays.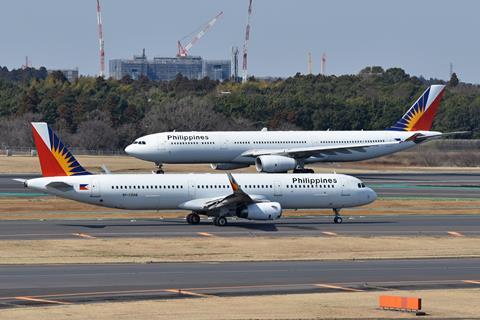 The other aircraft include an A330 – configured to seat 363 passengers and operating medium-haul routes – as well as a de Havilland Dash 8-Q400, which PAL will use for domestic inter-island flights. It did not state what other aircraft it is looking to add to its fleet in the near term.
"[PAL] is also actively engaged in coordinating with its suppliers and service partners to re-activate more aircraft that have been parked for extended periods while awaiting replacement engines and parts, as a consequence of delays in the global supply chain that afflict the worldwide airline industry," the airline states.
According to Cirium fleets data, PAL and its regional wing PAL Express have an in-service fleet of 62 aircraft, comprising A320s, A321s, A330s and A350s, Boeing 777-300ERs, as well as Dash 8s. The two airlines have 15 aircraft in storage and another 22 on order.
PAL vice president for network planning Christoph Gaertner says the airline has also cut a number of frequencies "as part of a rationalisation of our schedules", to boost operational reliability.
"We are taking various actions to boost our fleet count and enable us to meet the continuing surge in travel demand while minimising delays and cancellations," he adds.