Airlines are not sufficiently protecting crews from risks related to coronavirus or providing clear health guidance, endangering staff despite public claims to the contrary, according to the Air Line Pilots Association, International (ALPA).
In a report published on 11 May, the union says pilots at 17 airlines reported conditions that put passengers and crew at risk.
The report includes allegations of airlines scrimping on aircraft sanitation, not following up on suspected coronavirus exposures in crews, missing or inadequate disinfection supplies and protective equipment, and not adhering to guidelines meant to keep crews safe. The pilots complain of unclear, incomplete or confusing communications from their corporate headquarters.
The reports were collected between the end of March and mid-May.
Delta Air Lines, United Airlines and Spirit Airlines, three of the biggest carriers whose pilots ALPA represents, did not respond to requests for comment. The carriers have posted updates to their websites about enhance sanitation measures, in an attempt to ensure the flying public that air travel is safe.
Airline trade group Airlines for America (A4A) says its eleven member companies have "have taken substantial, proactive steps to protect employees and passengers, including enhancing sanitation processes".
"All A4A carriers have implemented intensive cleaning and disinfecting protocols, in some cases to include electrostatic cleaning and fogging procedures, and are working around the clock to sanitise cockpits, cabins and key touchpoints with EPA-approved disinfectants," the association says.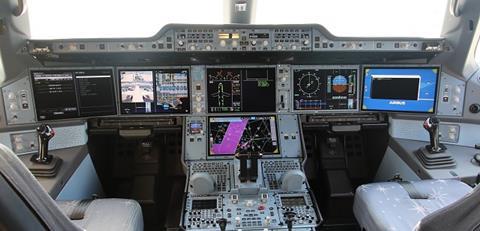 But ALPA, which represents 63,000 pilots at 35 US and Canadian airlines, says so far 300 of its members have tested positive for the virus, and it blames airlines for not adhering to or implementing recommendations from the Centers of Disease Control (CDC).

"Each day we are getting reports that airlines are still not doing the right thing… to keep flight crews and passengers healthy and safe during this pandemic," Joe DePete, president of the union, says. "These reports of noncompliance make clear that Congress must act, not just to protect pilots and passengers, but also to restore confidence in airline travel. The first step to ensuring an economic turnaround is to have uniform, mandatory public health guidelines."
ALPA's report, which anonymised pilots, carriers, cities and routes, cites accounts of cleaning protocols being ignored or curtailed, possible crew exposure to the virus, and pilots left to make decisions without company guidance.
It notes one airline replaced a captain who had been exposed to a flight attendant who tested positive for coronavirus. "Scheduling did not remove and replace the whole crew, just the captain," says the report. "The replacement captain was not made aware of the reason why he was being called in."
One pilot reported being picked up by an airport hotel shuttle van loaded with other crewmembers, some of whom were not wearing masks. "We were shoulder to shoulder. If someone had Covid-19, we all will get it," the report says.
"Flight attendant didn't call in sick out of fear of retaliation from the company. Ended up testing positive for Covid-19 days later," says the report, citing an instance in March.
"Cockpit cleaning is nonstandard and the contractor has been witnessed not cleaning the cockpit but reporting otherwise. There are multiple accounts of visibly dirty cockpits being reported as 'cleaned'," another pilot reported.
Cockpit crew also raised questions about the effectiveness of aircraft cleaning measures, such as fogging with airborne disinfectant and use of high-efficiency particulate air (HEPA) filters.
"As this continues to be a rapidly evolving situation, carriers are also participating in weekly information sharing sessions on aircraft cockpit and simulator cleaning, processes to health screen and protect pilots at US and international facilities," A4A says.
Other ALPA pilots reported concerns about foreign travel, including "invasive procedures" when entering China.
"[Pilots] are being bussed to the passenger terminal to wait in crowds to be tested, and on some bases they are being sprayed with unspecified chemical mixtures to ensure they are disinfected," says the report. "Some of the chemicals used are eye irritants and the percentage of chemical used in these sprays is unknown."
In April, ALPA called on the FAA to force airlines to follow health and sanitation guidelines to protect their workers. ALPA said at the time that the FAA has an obligation to enforce health guidelines and accused the FAA of cowing to the airlines.