Qantas has scrapped plans to acquire resources charter operator Alliance Aviation – months after competition regulators opposed the deal – noting that "there is no reasonable path forward" for the merger now.
The flag carrier, which is embroiled in several controversies, will retain its 20% shareholding in Alliance despite terminating the acquisition plan. An existing, longstanding agreement that sees Alliance operate Embraer 190s for Qantas on domestic routes will also remain unchanged.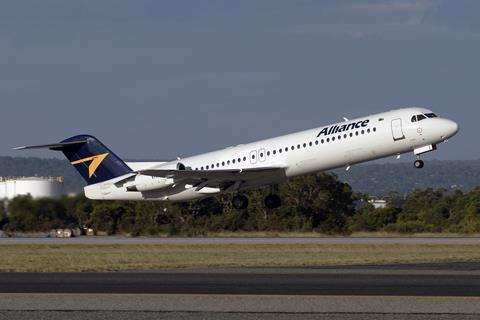 Qantas first announced plans to acquire the outstanding 80% of Alliance shares in May 2022, as part of a deal valued at around A$614 million ($387 million).
The deal was blocked by the Australian competition watchdog in April this year, on the basis that an acquisition would hurt competition in the air services market that supports the resources sector in Queensland and Western Australia.
The regulator based its decision on feedback that shows Alliance is a "particularly vigorous and effective competitor" in the resources sector, as well as its analysis on the competitive landscape by other Australian operators.
In a joint statement announcing the termination, both carriers say they believe the acquisition "would have created customer value without lessening competition in the highly competitive resources sector, particularly through the efficiencies created through a combined fleet of [Fokker] F100 aircraft".
"However, both companies acknowledge that there is no reasonable path forward for the deal at present," they add.
Qantas says Alliance remains "an important partner", and has exercised options to lease four more Alliance E190s into its fleet, bringing the total number of aircraft to 26.
The announcement is the latest in a string of challenges to confront the embattled carrier. It recently saw a series of high-level executive departures, and is facing a number of lawsuits, including from the competition regulator for allegedly selling tickets for flights that were already cancelled.