Qantas expects profit margins from international flying to double in the coming years, with the soon-to-launch Project Sunrise ultra-long-haul flights forecast to give a significant boost to earnings.
In its first investor day held since the Covid-19 pandemic began, the Australian flag carrier provided an update to its broad strategy through 2030, as it "moves from recovery to renewal and growth".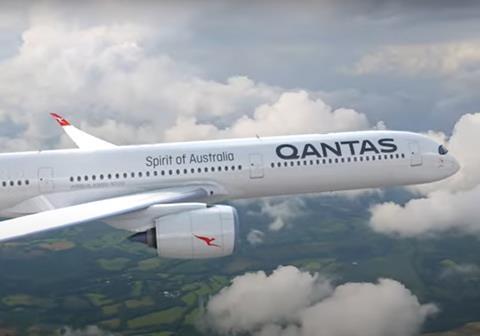 Qantas projects its international operating profit margins to be more than 8% in fiscal 2024 – the 12 months ending 30 June 2024 – against a 4% margin in fiscal 2019.
In the longer term, Qantas expects its international division to deliver a profit margin of between 10-12%, following the launch of ultra-long-haul flights, which it says will deliver a "significant incremental earnings increase".
The carrier forecasts Project Sunrise flights to drive some A$400 million ($261 million) in earnings per year, "in the first full year of having all 12 aircraft in service". The first of 12 Airbus A350-1000s will enter the fleet in 2025, with Qantas expected to launch the ultra-long-haul flights – non-stop services to London and New York from Australia's east coast — around end-2025.
On the domestic front, Qantas also expects profit margins to grow, albeit at a lower rate than in its international division. In fiscal 2024, the airline targets a margin of around 18%, up from the 13% reported in fiscal 2019.
Chief executive Alan Joyce, who leaves the airline in November, says Qantas is "very well placed" to take advantage of opportunities in a post-Covid-19 industry.
"This is a structurally different business than it was before Covid-19, operating in markets that have also changed. We're very well placed to take advantage of the opportunities that creates and the detail we've released today shows our strategy to do it."
His successor Vanessa Hudson, currently the airline's finance chief, adds: "We're confident in reaching our [fiscal 2024] margin targets and we've set some ambitious but achievable earnings goals beyond that, because we think ambition is key to long-term performance."
Qantas expects to report a bumper annual profit for the year to 30 June, amid strong travel demand and as fuel prices and supply-chain issues begin to moderate.
It forecasts an underlying pre-tax profit of between A$2.42 billion and A$2.48 billion, a significant swing from the A$1.86 billion underlying loss in the 2022 fiscal year.
The latest projections also come as the airline enters the first stage of a large-scale fleet renewal programme. In 2022, the carrier firmed up orders for new A220s, A321XLRs, as well as A350-1000s. In total, Qantas and its low-cost unit Jetstar have close to 300 new Airbus aircraft on order.
Jetstar has already began taking delivery of new A321LRs and Qantas expects its first A220 to enter the fleet in late-2023, with the A321XLRs following a year later.