Qantas CEO Alan Joyce has hailed the airline's "strong safety systems" in his first public comments following a spate of mechanical issues to hit the airline at the start of the year.
In an op-ed published 2 February, the airline chief also hailed the airline's improving reliability metrics following its high-profile operational meltdown in mid-2022, emphasising that "Qantas is back to its best".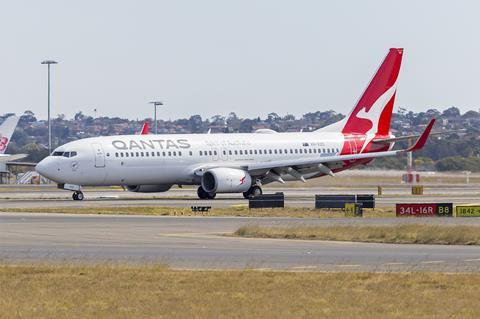 The piece, titled 'Getting Qantas back to its best', comes weeks after the airline suffered a series of mid-air turn-backs, and also follows a public apology Joyce issued in 2022 for the airline's service shortcomings, which included unprecedented delays, cancellations, and staffing issues.
On the airline's safety record, Joyce says that "despite the hype", the well-publicised turn-backs in January "are actually a symptom of strong safety systems".
"Our pilots always err on the side of caution because that's what we train them to do. If an onboard system isn't working the way it should, they will often decide to land rather than pressing on to the destination," writes Joyce.
He adds: "I congratulate them for doing that and encourage them to keep doing it. And despite the obvious inconvenience, I think most of our customers do, too."
Qantas saw three turn-backs in three days involving its Boeing 737-800s, sparking concern over the airline's maintenance and safety records. On 20 January, the airline's international and domestic chief Andrew David urged calm, stressing that it was "important to put these things in context".
Data from the Qantas Group, which also comprises low-cost unit Jetstar, shows that in a year, it averages about 60 turn-backs, out of about 10,000 turn-backs across the airline sector.
In his latest comments, Joyce adds: "If you're flying on an aircraft that has an issue, it's not because it's not well looked after. It's because they are incredibly complex pieces of equipment with many layers of redundancy."
FARES TO COME DOWN AMID CAPACITY RAMP-UP: JOYCE
Joyce also used the op-ed to highlight the airline's improving service reliability metrics, acknowledging again that the airline fell short on previous occasions.
"Six months ago, a lot of people felt we'd let them down and the figures showed why. Almost half our flights were late, our rate of misplaced bags had more than doubled and we were cancelling up to 7 per cent of our schedule," says Joyce.
Since then, the airline has improved on its on-time performance and other service levels, with Joyce vowing: "We are working to make it better."
The airline chief also addressed concerns over high airfares, attributing it partly to reduced flying "to make our operations more reliable".
"We have more aircraft and crew on standby to step-in to deal with the supply chain and sick leave issues that remain. Less supply and lots of demand meant fares went up," he says.
To this end, the airline has restored capacity across its capacity, with domestic flying "almost back" to pre-pandemic levels. By mid-2023, the airline will also operate at 80% pre-pandemic capacity on the international network.