Qantas chief Alan Joyce will step down from the airline effective immediately – two months earlier than planned – amid mounting public anger over a string of controversies in recent weeks.
Joyce, who was supposed to retire in November, will hand the reins over to finance chief Vanessa Hudson from 6 September, ending his 15-year stint at the top of the airline.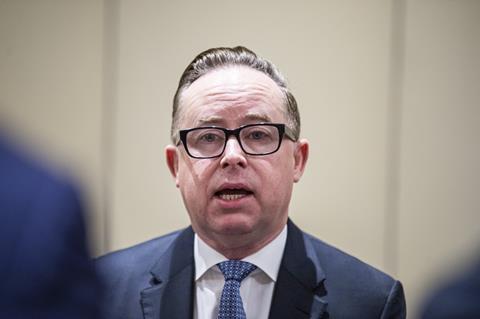 Qantas adds that other planned senior management changes – including the appointment of Hudson's replacement as well as a new CEO for its domestic operations – will also be brought forward in light of Joyce's departure.
The surprise announcement follows a challenging period for the national carrier, after it reported record profits in its full-year financial results.
On 31 August, it emerged that the airline had allegedly sold seats on thousands of flights between May and July 2022 that never took off. The Australian Competition and Consumer Commission (ACCC) is suing the airline for "false, misleading or deceptive conduct" that affected thousands of travellers.
According to the competition watchdog, the airline allegedly failed to inform customers of flight cancellations in time, leaving them with less time to find alternative travel arrangements.
Joyce himself was also the subject of scrutiny, when he was grilled by a parliamentary committee on flight delays and ticket prices amid a cost-of-living crisis. The airline's record annual profit – an underlying pre-tax profit of nearly A$2.5 billion ($1.6 billion) – only stoked public anger further.
In a statement issued following his surprise exit, Joyce said the airline now "needs to move ahead with its renewal as a priority".
"The best thing I can do under these circumstances is to bring forward my retirement and hand over to [Hudson] and the new management team now, knowing they will do an excellent job," he adds.
Airline chairman Richard Goyder, meanwhile, acknowledged the "challenging time" facing the carrier.
"This transition comes at what is obviously a challenging time for Qantas and its people. We have an important job to do in restoring the public's confidence in the kind of company we are, and that's what the board is focused on, and what the management under [Hudson's] leadership will do," says Goyder.
Joyce first announced his intention to retire in May, with Hudson taking over in November. He joined Qantas in 2000, first in its network planning team before being appointed CEO of fledgling low-cost unit Jetstar in 2003. Subsequently, he was promoted to Qantas chief in 2008.