Australia's competition watchdog has allowed Qantas and China Eastern Airlines to extend their strategic partnership until 31 March 2023, pointing out that the alliance will help both carriers navigate a post-pandemic demand recovery.
The Australian Competition and Consumer Commission (ACCC), in a decision issued on 29 January, allowed the carriers' application for extension "given the crisis and market uncertainty created by the novel coronavirus [Covid-19] pandemic".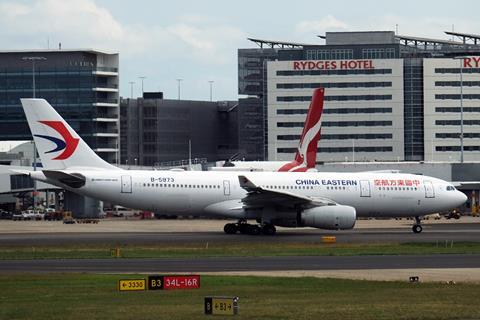 "In the context of the significant disruption to international travel resulting from the Covid-19 pandemic, the ACCC considers that the extended [agreement] is likely to result in a public benefit by assisting the applicants to reinstate flights, and potentially grow the capacity they operate between Australia and China as travel restrictions ease, more quickly and in a more sustainable way than would otherwise be the case," notes the commission.
Qantas and China Eastern first entered into a partnership, known as a joint coordination agreement, in 2015, to coordinate operations between Australia and China.
The ACCC at the time was of the opinion that the agreement would "significantly reduce competition" on the one route which both airlines operated, Sydney-Shanghai Pudong.
To mitigate concerns of lost competition, the ACCC imposed conditions of authorisation, which required both carriers to maintain and subsequently grow "an aggregate base level of capacity" on routes between Shanghai and Australia, as well as on Sydney-Shanghai.
To this end, the ACCC notes that both carriers have complied with the conditions set out, until the coronavirus pandemic broke out.
Before the pandemic, Qantas operated daily flights between Sydney and Shanghai Pudong, while China Eastern flew the route twice daily.
The Shanghai-based carrier also flew to Sydney from Hangzhou, Nanjing, Wuhan and Kunming, while it had flights to Brisbane, Melbourne and Perth from Shanghai Pudong.
As a result of the pandemic, Qantas suspended its China flights, while China Eastern currently only operates Sydney-Shanghai Pudong once daily.
In its latest decision, the ACCC states that "it is not apparent that if Qantas and China Eastern were operating independently of each other, there would be sufficient recovery in demand to fuel a strong return to the route for both airlines in the short term".
While Qantas and China Eastern have applied for an extension until 31 March 2022, the commission allowed an extra year, in view of the longer-than-expected recovery in demand.