Qantas has made several changes to its senior leadership teams as incoming CEO Vanessa Hudson prepares to take helm of the airline group in November.
The management overhaul, announced 28 June, sees the naming of new finance and domestic chiefs, as well as the creation of a new role to oversee risk.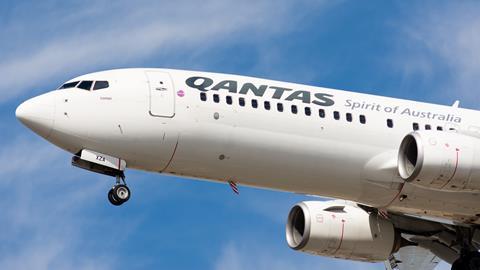 The airline group has named Rob Marcolina as its new chief financial officer, replacing Hudson when she takes over as airline chief. Marcolina is currently the group executive for strategy, people and technology, and has been with the airline since 2012.
Qantas says the CFO role – one of many closely-watched management changes – will now encompass strategy and transformation responsibilities.
At the same time, Qantas will also create a new chief people officer role, which it says will bring together the human resources and industry relations functions. The new role comes amid plans to ramp up hiring – 8,500 jobs over the next decade – and simmering tensions with employee unions.
The carrier has picked current chief customer officer Markus Svensson to lead its domestic operations. The portfolio has been split from a joint international and domestic unit, and had been helmed by Andrew David, who retires in September.
Svensson's role as customer chief will be filled by Catriona Larritt, currently an executive at Qantas Loyalty and the former commercial chief of low-cost unit Jetstar.
Larritt will take on additional responsibilities of technology, "reflecting the role of digital in improving customer experience", the airline states.
Qantas has also appointed Andrew Monaghan to the newly-created role of chief risk officer, which it says will "bring together risk management for the group as a whole, to provide the highest level of oversight and governance".
Monaghan, currently an airline executive, has been with the airline for 17 years, in several roles including operations, as well as audit and human resources.
Lastly, the airline says it is looking for a new CEO for regional unit QantasLink, following the retirement of current chief John Gissing.
Incoming CEO Hudson, who takes over from long-serving chief Alan Joyce, says: "The structural changes announced today are about increasing our focus on a few key areas as we move from recovery to growth, especially when it comes to things that matter most to our people and our customers."
She adds: "The success of our recovery plans means we're in a strong position, and that will only stay true if we get the balance right for our customers, people and shareholders in the years ahead."
With the latest changes, the new senior leadership team will have 13 members, one more than the current team under Joyce's tenure. Joyce is stepping down in November after 15 years at the helm.