Qantas says it remains "on track to deliver" a record profit for the year ending 30 June, as it expects a bumper holiday travel season in July.
In an update issued 27 June, Qantas and low-cost unit Jetstar expect to carry about 4 million passengers across domestic and international networks for the school holiday period, which run from late-June through late-July.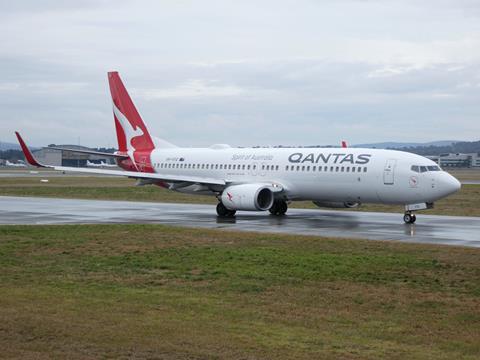 "Travel demand remains strong and data shows that consumers continue to prioritise travel over other spending categories", states Qantas, adding that it is still on track to profitability.
In late May, the airline group said it was expecting to post a record underlying pre-tax profit of between A$2.42 billion and A$2.48 billion ($1.63-1.67 billion), a significant swing from the A$1.86 billion underlying loss in the 2022 fiscal year.
In its latest update, Qantas says its group international capacity "continues to climb back" to pre-pandemic levels, following the resumption and launch of several international routes. Domestic capacity, meanwhile, has reached pre-Covid-19 levels.
Since the start of the year, the group has also taken delivery of six new aircraft, comprising Airbus A321LRs for Jetstar, as well as Boeing 787s for Qantas.
ACCC PROPOSES TO RENEW QANTAS-EMIRATES COOPERATION
Separately, the Australian competition regulator has proposed to allow Qantas and Emirates to continue coordinating operations for another five years.
The two carriers had sought reauthorisation from the Australian Competition and Consumer Commission (ACCC) to "enable them to coordinate passenger and cargo transport operations across their respective networks", covering routes between Australia and the UK/Europe, as well as Asia, New Zealand, Middle East and North Africa.
"The ACCC considers that the proposed conduct would be likely to result in public benefits, including increased connectivity and convenience and greater loyalty program benefits for consumers," says ACCC commissioner Anna Brakey.
However, the watchdog raised concern that the coordination could reduce competition on the Sydney-Christchurch route, where Air New Zealand is the only other carrier operating the route.
The ACCC is accepting submissions for its proposed authorisation by 12 July, before it makes a decision.
Emirates and Qantas first entered into the partnership in 2013, with the ACCC approving the alliance in 2018. The current authorisation expired on 31 March, but the commission granted interim authorisation while it assessed substantive applications.