Qantas expects to cut emissions by 25% by 2030, as part of a broader goal to achieve net-zero emissions by 2050.
The Oneworld carrier on 31 March outlined plans to achieve its emissions target, including ramping up the use of sustainable aviation fuels - which it says is "critical" to achieving its sustainability goals - and cutting down on waste.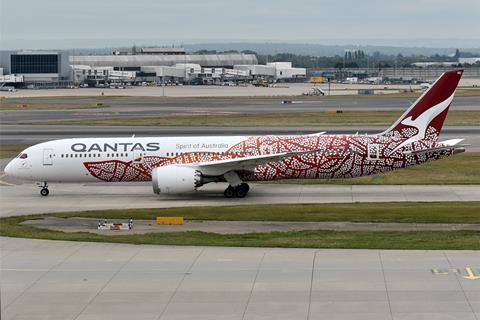 On SAF, Qantas says it aims to use 10% sustainable aviation fuels in its overall fuel mix by 2030, and approximately 60% by 2050. The carrier is currently using SAF sourced from overseas, with 15% of fuel used on flights from London comprised of SAF.
While it is still in discussion to procure more SAF from offshore suppliers, Qantas has urged the Australian government to "lend support to ensure Australia manufactures the biofuel like the UK, US and Europe already are".
The carrier also aims to increase fuel efficiency by an about 1.5% annually to 2030, by way of efficient flight planning, as well as fleet renewal. Qantas and its low-cost unit Jetstar have already committed to newer, more fuel-efficient jets, including the Airbus A320neo family, as well as the A350 and Boeing 787s.
Qantas will also continue research and support for new generation technologies, including using hydrogen- and battery-powered aircraft.
Lastly, the carrier will double down on its carbon offset programme, another "important tool" in helping achieve its net-zero goal. "Qantas is committed to growing its offsetting program and investing in Indigenous and Australian projects wherever possible," it states.
Says Qantas group chief Alan Joyce: "One benefit of setting these targets now is sending a clear signal that we're in the market for large volumes of sustainable aviation fuel, for carbon offset projects and for products that can be recycled. That will hopefully encourage more investment and build more momentum for the industry as a whole.
He adds: "Responding to climate change is a big challenge, but we will get there. Partnerships with industry and all levels of government are going to be key to create the supply chains we need, and customers will have a role to play as well in supporting more sustainable options."