Qatar Airways more than doubled net profits for the six months ended 30 September 2023, driven by increased passenger yields and load factors.
The Oneworld carrier posted a net profit of QR3.7 billion ($1 billion) over the first half of its financial year, an increase of 114% over the same period a year earlier.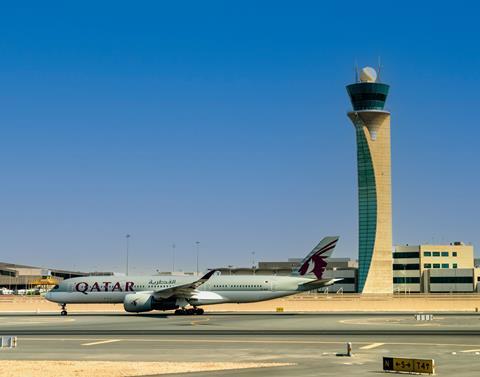 Qatar lifted passenger capacity by almost one-fifth compared with the same period last year, aided by the return to service of a "majority" of its temporarily grounded Airbus A350 fleet.
Passenger numbers over the six months climbed 22% to reach 19.1 million. That also reflects an increase in load factor to 83.3% for the period.
This, combined with yields up 3.6%, helped drive passenger revenue up 28%. Overall revenue, though, increased less sharply, by 7%, to reach QR40.1 billion. The airline did not disclose a revenue figure for its cargo business, which had increased activity sharply during the pandemic.
These are the last set of financial results released under the leadership of chief executive Akbar Al Baker, who this month steps down after 27 years at the helm of the carrier.
"The interim results this year indicate that the group is tracking towards another very strong year, which builds upon over $2.75 billion cumulative profits from the previous two years," says Al Baker.
The airline though does flag headwinds over the second half, including "geopolitical tensions in a number of parts of the world" which it says "could have an impact on passenger demand for air travel, as well as potentially create operational constraints".
Qatar Airways, which cites fuel costs as the single largest concern, also highlights the impact of exchange rate fluctuations resulting from a strengthening US dollar.
However the airline adds: "Management expects to continue the strong performance despite the headwinds in the second half of 2023-2024."