A panel at the recent IATA World Safety & Operations conference in Hanoi shed light on work related to applying artificial intelligence (AI) and machine learning (ML) to the aviation industry.
Razvan Bucuroiu, head of the airspace capacity division at Eurocontrol, says that an ML model has been effective at predicting future traffic patterns based on data around previous sets of flights, even unscheduled ones.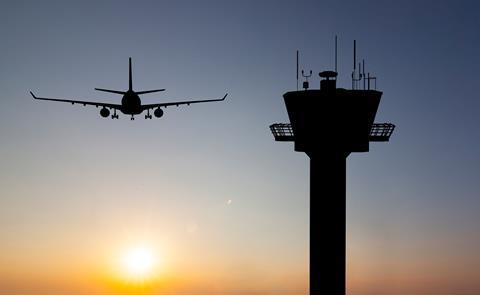 The model can even predict surges in traffic at certain airports where major events are taking place, such as international film festivals and sporting events.
"If you put all of that into the box, and you looked at what happened in previous years or previous periods when similar events took place, you can very accurately predict [what is likely to happen], so this is very helpful," says Bucuroiu.
"The next step is to assess where bottlenecks might occur in European airspace in the next eight weeks."
This predictive ability allows air traffic controllers to anticipate potential air traffic congestion.
While the terms are used interchangeably, AI mimics human cognition, whereas ML performs difficult tasks using algorithms trained on data.
Another Eurocontrol project looked at how ML can manage the European air network more efficiently, suggesting that routing restrictions can be sharply reduced to 200 from around 14,000, and that timings should be tweaked for 1,000 of 7,000 daily flights.
"These are the types of algorithms that we need to integrate into our planning tools in order to manage the network more efficiently," says Bucuroiu.
He says a significant amount can be done with AI/ML and remain with ICAO and EU regulations.
He warns, however, that the adoption of AI/ML should not be rushed, and that it should only be implemented if it will not, in practice, increase the workload of controllers.
The US Federal Aviation Administration (FAA) is also looking closely at AI/ML, according to Kimberley Pyle, the agency's senior air safety investigator. One project, conducted jointly with Microsoft, aimed to identify "hotspots" in the air traffic network, where factors such as trajectory or terrain have the potential to create conflict between aircraft.
"This is very important information if you're designing airspace, and you can also do modelling around controls," she says.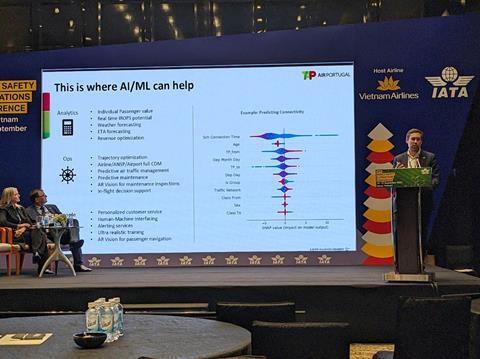 The work involved years of data, as well as air traffic controllers and accident investigators working closely with data scientists.
Another project is looking at how ML can be used to identify potential causal factors for safety incidents through mining a broad history of safety reports.
"There is no way for you to understand that data using humans to spend time reviewing it, you have to harness the power of AI," says Pyle.
A considerable challenge is that data scientists command higher salaries than government agencies can afford. This requires regulators such as the FAA to partner with data scientists at companies and universities.
Duarte Afonso, director of operations strategy at TAP Air Portugal, said that AI/ML can help airlines in numerous areas such weather forecasting, revenue optimisation, trajectory optimisation, predictive maintenance, and many others.
He warns, however, that several things could hold back the implementation of AI/ML, including users' willingness to accept new ways of doing things, and complexity.
Critically, he warns that employees will still need to be able to function in the absence of aids based on AI/ML.
"We all see the potential to have tools to assist us in making decisions, from the operations room to strategic planning, to network design and the cockpit," says Afonso.
"The question is, how do we make sure that we help people, but that we don't turn them into robots? If you inject people with enough automation, they'll no longer be able to revert."