Mexico's aviation regulator is still awaiting details of aircraft for the planned new state-run airline which will operate under the former Mexicana brand.
Earlier this year the Mexican government disclosed plans for a new carrier overseen by the country's defence ministry that will use the Mexicana brand, more than a decade after the original operator collapsed. The new operation, which is set to operate a fleet of 10 Boeing 737s, has been slated to to begin operations from the start of December.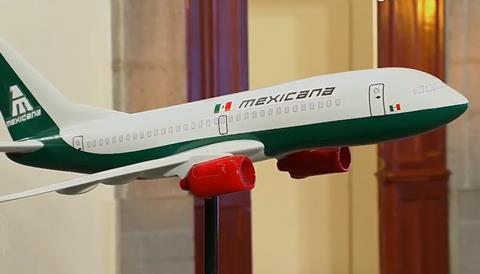 Asked about the certification of the new carrier during a press conference on 22 October in Cancun ahead of the opening of this year's ALTA AGM & Airline Leaders Forum, general director of Mexico's civil aviation regulator (AFAC), Miguel Vallin, said that it is so far still to receive details of aircraft registered for the carrier.
"So far it's registration has not be been presented. We just require this information so we can do the proper [certification] process," he says, adding that the new airline cannot begin to sell tickets until this process is completed.
The airline has outlined a proposed route network of 20 domestic destinations it plans to serve out of Mexico City's secondary Felipe Angeles international airport, though no schedule has yet been disclosed.
Vallin reiterates the aim of the carrier is to reduce the costs of air travel in the country and to boost connectivity to key cities, particularly cities in the north, "so we can guarantee more connectivity and better prices", he says.
"The intention is the airline will begin at the start of the December. We are working on it, this is why we bought the Mexicana brand," he says. "But the issue of aircraft and registration – this is an issue for the airline."