Australia's Qantas Group swung back to its first full-year profit since 2019, on the back of "significantly higher" revenues from strong travel demand.
For the year to 30 June, the airline group reported a record underlying pre-tax profit of A$2.47 billion ($1.6 billion), compared to the A$1.86 billion underlying loss in the previous financial year. The results also mark a "substantial turnaround" from three years of losses – amounting to over A$7 billion – amid the pandemic.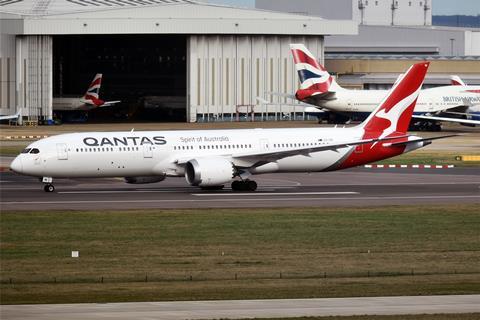 The airline group attributes the latest financial results to a significant increase in flying activity, as well as the completion of a A$1 billion business recovery programme launched during the Covid-19 pandemic. It previously forecast a full-year profit of between A$2.42 billion and A$2.48 billion.
Qantas Group's various business units all saw a swing to profitability during the financial year, with annual revenues more than doubling year on year.
The group says it is seeing strong travel demand "despite cost-of-living pressures", with outgoing group CEO Alan Joyce adding: "Fundamentally, travel demand is extremely robust."
Qantas' domestic operations reported an underlying profit of almost A$1.3 billion, reversing the A$765 million loss in the year-ago period.
Domestic revenue doubled year on year to nearly A$7 billion, or about 14% higher than pre-pandemic levels. Qantas carried 9.8 million domestic passengers in the six months to 30 June, a 24% jump year on year, but down 7% against pre-Covid-19 passenger volumes.
Similarly, Qantas' international operations swung to a A$906 million profit, compared to the A$238 million loss in the year-ago period. International travel revenue more than doubled year on year to A$7.7 billion, as the airline's network recovery continued apace.
Low-cost unit Jetstar, meanwhile, posted an annual underlying profit of A$404 million. This compares to the A$796 million loss in the previous financial year.
It saw its revenue nearly triple year on year to A$4.2 billion, amid strong demand on both domestic and international networks.
Joyce says: "This is a remarkable turnaround, three years in the making. And it's been hard. From being 11 weeks shy of insolvency, to a challenging return to flying across the industry, to finally getting back to leading domestic operational performance."
The group expects domestic capacity to remain above pre-pandemic levels for the current financial year. It also reiterates its targets of full international capacity recovery by the January-June period in 2024.
Alongside its financial results, Qantas also announced firm orders for 12 Airbus A350-1000s and 12 Boeing 787s, which will replace its fleet of aging A330s. The order is the third major order in at least two years the airline has made, as it undertakes an extensive fleet renewal programme.