While leisure travel will likely be first to pick up after being battered by the coronavirus pandemic, airlines "would be remiss" to underestimate the return of business travel demand, says Star Alliance chief executive Jeffrey Goh.
Despite the ubiquity of teleconferencing and other virtual networking tools during the pandemic, Goh believes that business travel "will continue to happen", as the nature of such travel "is not a transactional matter…it's about building relationships".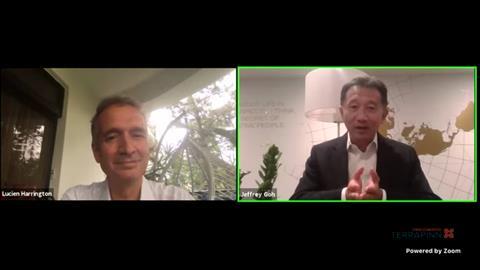 And while he acknowledges that the pandemic will lead to "structural change" in business travel habits — an estimated reduction of up to 25% in numbers — it will still be a staple of airline revenue.
"We all know that for many airlines, business travellers…are [a] staple to the … industry. So I think it would be remiss if any airline [were] to overlook their focus on the return of business travellers," says Goh, who was speaking on 22 June at the virtual Aviation Festival Asia event.
Goh also remains optimistic that "travel will return", noting that key markets such as the US and China are already seeing surging demand.
"There are people who are waiting for the moment…[the] authorities remove quarantine, remove border restrictions…[and you will] see a spike in bookings," Goh says.
Referring to projections made a few years ago that passenger numbers in the next 20 years will double to 8 billion, Goh adds: "Now, those travellers haven't just gone away…they're going to come back and…we are all hopeful that day is going to come when they come back. So I think human nature is such that we will need to latch on to our travel DNA."
Asked for his thoughts on the airline industry's response to the crisis, Goh acknowledges that it was "difficult to imagine" how any carrier would have been "prepared for this crisis". Airlines, he says, were clear that they would be "the first to be hit, and the last to come out" of the pandemic crisis.
"I think it's an understatement to say we were surprised. The speed with which the crisis took hold, the reactions of governments in shutting borders, I think, took everyone by surprise," he adds.
"We've had other forms of crises in the past…that haven't really led to the kind of reactions that we see in these past 12-18 months," says Goh, pointing out that border restrictions will be a key factor in hindering the sector's recovery.
He urged a constant review of measures and restrictions imposed, "in a way that if they're no longer needed, if we're all vaccinated or substantially vaccinated globally, some of these measures should disappear".
Goh adds: "I think we need to be very conscious that we don't end up leaving some of these measures in place that challenge the experience of customers and the want to travel of customers."