Scandinavian operator SAS is entering a codeshare agreement with Middle Eastern carrier Etihad Airways, following Etihad's opening of a Copenhagen route.
The codeshare will take full effect from the end of December.
SAS is undergoing a corporate restructuring, known as 'SAS Forward', and is currently under US Chapter 11 bankruptcy protection.
The airline is a member of Star Alliance but, as part of a rescue financing agreement involving Air France-KLM Group, SAS is intending to leave the alliance to join SkyTeam.
Etihad is non-allied but has partnership agreements with several operators across the various alliances.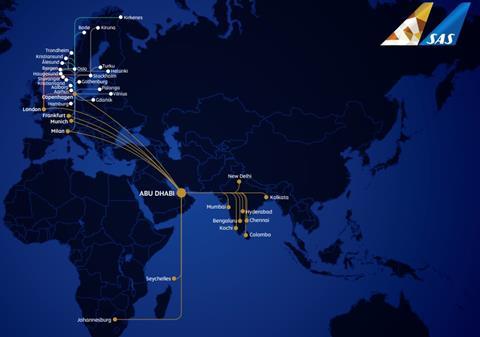 Chief revenue officer Arik De says the agreement with SAS will allow "more seamless travel" between northern Europe and Etihad's Abu Dhabi base.
"The tie-in gives our guests one-stop access across Scandinavia to destinations including Oslo, Stockholm, Helsinki, Gothenburg, Bergen and Aarhus," states De.
SAS chief commercial officer Paul Verhagen adds that the codeshare will offer passengers onward links beyond Abu Dhabi to destinations including India, the Seychelles and Sri Lanka.