Privatisation target TAP Air Portugal turned a net profit of €22.9 million ($24.9 million) in the first half of the year, a marked improvement on previous losses.
TAP made a loss of €202.1 million during the first half of 2022 and even in first six months of pre-pandemic 2019, the Lisbon-based airline lost €112 million.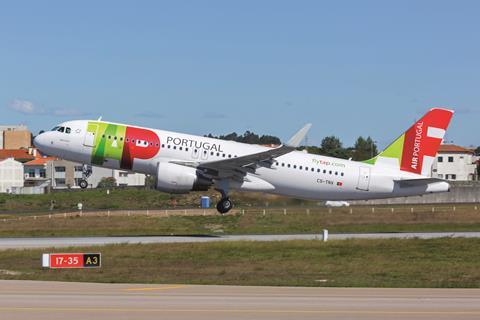 The Star Alliance carrier points to a 44% jump in revenues, to €1.9 billion, over the six months to end-June as the key driver of the improved result. TAP carried 7.6 million passengers during the first half, up 30% on the same stage last year, and at 96% of 2019 levels.
TAP chief executive Luis Rodrigues says the results "underpin TAP's sustained trend" of commercial and financial improvement.
At an operating level, TAP posted a recurring EBITDA of €361.7 million and an EBIT of €124.5 million in the first half, representing margins of 19% and 6.5%, respectively.
"The operating margins and the deleveraging path, above the targets of the restructuring plan, prove the group's financial sustainability at a critical moment in our history," he says.
"However, there is still a long way to go. Re-engaging even more our people, cleaning our backlog and fixing our operations have been key priorities, which have already enabled us to capitalise on the summer period.
"Demand remains strong, with bookings for the coming quarters reaching considerable figures, indicating an intense second half of the year, for which TAP will be prepared."
Portugal has begun work on the planned privatisation of TAP – the carrier having returned to full state ownership during the pandemic. European carriers, including Air France-KLM, have expressed interest in TAP, but are awaiting details of the privatisation, publication of which is now expected later this year.
"They have gone through an excellent transformation… and we see their southern base as a nice complementary addition," said Air France-KLM chief executive Ben Smith during the carrier group's second-quarter results call at the end of July.
"Depending on the conditions, and depending what the Portuguese state puts out, we will follow it closely. We are interested and will see how it plays out."