Australia's Regional Express expects to post an annual loss, in a sobering about-face from its optimism of returning to profitability earlier this year, as it blames supply chain "shocks" as well as a decline in business travel demand.
The operator now expects to report a loss of around A$35 million ($23.4 million) for the year ending 30 June, lower than the pre-tax statutory loss of A$68 million in the year-ago period.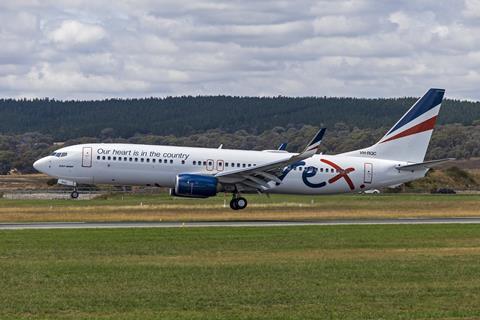 It also compares to the loss of A$16.5 million the airline reported in the July-December period.
"The global shortage of pilots and engineers, along with supply chain shocks post-Covid have disrupted Rex's network, forcing Rex to make significant reductions to its flight schedules over the last couple of months to match the need for aircraft, pilot and engineers to what is available," the airline says in a 20 June disclosure.
It also acknowledges that the business travel - which it once said was a revenue opportunity - had "significantly reduced" in May and June, noting that the "exponential increases" in airfares had "exhausted" corporate travel budgets.
The reversal follows months of "cautiously optimistic" forecasts of a full-year profit. Though Rex did not disclose its profit forecast, its mainline jet operations had been profitable for several months since September 2022.
The airline first operating Boeing 737-800s on mainline domestic routes in 2021, but pandemic restrictions in Australia scuppered operations and Rex only fully resumed flights in February 2022.
And while it had been loss-making in the six months to 31 December 2022, Rex was expected to "make up for the accumulated losses…to emerge profitably overall for the entire [financial year]".
In its latest earnings forecast, Rex says it "remains optimistic" for a group pre-tax profit in the year to 30 June 2024, citing the "continued expansion" of its jet operations, as well as opportunities in the resources charter segment.