Australia's Regional Express (Rex) narrowed its operating loss to A$18.4 million ($13.5 million) from A$27.4 million a year earlier, but warns of tough times ahead given the impact of a major coronavirus outbreak in Australia.
The carrier saw passenger revenue decline 41.3% year on year to A$125.2 million in the first half of its 2021 financial year to 30 June, according to its results statement.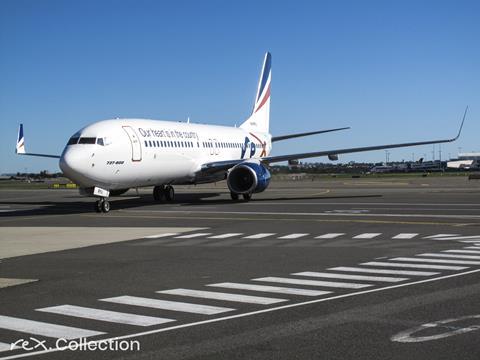 Net losses also narrowed to A$4.9 million, from a net loss of $19.4 million a year earlier. The carrier also reduced non-fuel expense by 20.9% to A$250 million.
As of 30 June 2021, the airline had cash and bank balances of A$30 million, compared with $11.2 million a year earlier.
"The airline industry has never been as badly ravaged in its entire history as today with a staggering drop of 56% in passenger numbers globally," says Rex chairman Lim Kim Hai.
"To understand the magnitude of the devastation, the drop in global passenger numbers was 16% during the Global Financial Crisis. Rex's passenger numbers fell by 29% in the past fiscal year."
He adds that the first half of 2022 will see continued lockdowns and border closures, and that the airline's outlook for 2022 is highly uncertain."
The airline's 2021 financial year was significant for the regional carrier, in that it launched operations with Boeing 737-800s on major Australian domestic routes, having taken its sixth example of the narrowbody type on 21 April.
"On behalf of the entire passenger airline industry in Australia, I wish to put on record our vote of gratitude to the federal government, without which all passenger airlines in Australia would certainly have entered administration," says Lim.
"Its continued support whenever new [crises] hit the industry will ensure that all the airlines would have their infrastructure intact to be ready for the recovery when it comes."
Shortly following its results release, Rex announced that it will continue the suspension of its domestic routes and reduce regional routes until 10 October. This also includes the stand-down of staff.
It notes that the New South Wales (NSW) government has announced that Greater Sydney will be locked down until the end of September, and that regional NSW is locked down until 10 September. It also anticipates more restrictions in and lockdowns in Australia's Victoria state.